By Ron Kaplan, contributor
Mazel of the Weekend goes to Kevin Pillar. The Toronto Blue Jays are still struggling — they have the worst record ion the Majors at 2-10 — but Pillar, now batting in the leadoff spot, looked good this weekend (Friday thru Sunday), going 5-for-13 with a double and his first home run of the season. The Jays dropped two of three to the visiting Baltimore Orioles.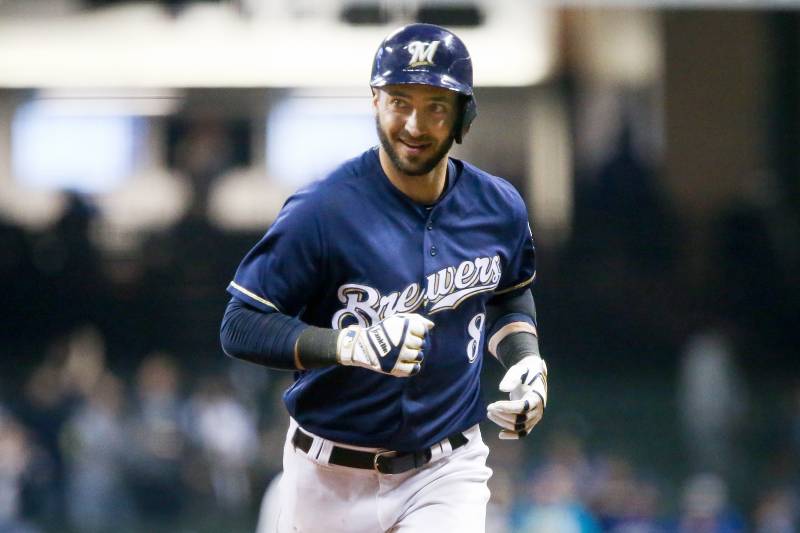 Ryan Braun #8 of the Milwaukee Brewers rounds the bases after hitting a home run in the fourth inning against the Colorado Rockies at Miller Park on April 4, 2017 in Milwaukee, Wisconsin. (Photo by Dylan Buell/Getty Images)" width="216" height="144" data-reactid="116" />Ryan Braun launched home run #4 — a two-run job — on Sunday to start the scoring for the Milwaukee Brewers (7-6) in their 4-2 win over the host Cincinnati Reds. All told, Braun was 3-for-10 with that home run and two doubles. He was 0-for-2 with three walks in Friday's game, started for the Reds by Scott Feldman, who allowed five free passes in his five innings of work, yielded two stolen bases to Braun, and reportedly is changing how he pitches. Feldman gave up two runs on four hits and struck out three but was not involved in the decision, a 10-4 Brewers win. By the way, there's still chatter about a trade that would send Braun to the LA Dodgers.
Danny Valencia was also 3-for-10, including his first triple and second double as the Seattle Mariners (5-8) won all three games against the visiting Texas Rangers.
Joc Pederson's first double of the year was his only hit in eight at-bats over the weekend (including a strikeout in a pinch-hitting appearance on Saturday). The Dodgers (7-6) dropped two of three to the visiting Arizona Diamondbacks.
Ian Kinsler is in one of his funks. He managed just one hit in 11 at-bats as the AL Central-leading Detroit Tigers (8-4) took two of three from the host Cleveland Indians. Kinsler walked twice but strike out five times in the series.
Alex Bregman's Houston Astros lead the AL West with the same 8-4 record as the Tigers. Bregman was 1-for-5 with two walks, two runs scored, and an RBI and a stolen base.
Craig Breslow retired the only batter he faced in the Minnesota Twins' (7-5) three-game set against the visiting Chicago White Sox. That came on Friday in a 2-1 loss.
Ron Kaplan (@RonKaplanNJ) hosts Kaplan's Korner, a blog about Jews and sports. He is the author of three books, including The Jewish Olympics: The History of the Maccabiah Games and the forthcoming Hank Greenberg in 1938: Hatred and Home Runs in the Shadow of War.
# # #
Get your Jewish Baseball News updates via e-mail