April 11, 2018 (Wednesday)
By Ron Kaplan, contributor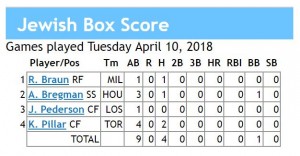 Kevin Pillar was 2-for-4 as the Toronto Blue Jays (8-4) beat the host Baltimore Orioles (4-8), 2-1, behind the strong pitching of Aaron Sanchez, who took a no-hitter into the eighth inning. Neither Richard Bleier nor Danny Valencia appeared for the Os.
Alex Bregman (see article) singled in three at-bats and walked as the Houston Astros (9-3) fell to the host Minnesota Twins, 4-1. Bregman was also picked off first.
Joc Pederson struck out as a pinch-hitter in the sixth inning as the LA Dodgers (4-6) shut out the visiting Oakland Athletics, 4-0. Is a new position in the offing?
Ryan Braun did not appear for the Milwaukee Brewers (6-6) in their 5-3 loss to the host St. Louis Cardinals (5-6). Ryan Sherriff is on the disabled list for the Cards.
The LA Angels (9-3) beat up on the Texas Rangers, 11-1, without the services of Ian Kinsler, who now expects to make his return from the DL on Thursday.
Gabe Kapler's Philadelphia Phillies evened their record at 5-5 with a 6-1 win over the visiting Cincinnati Reds.
Former major leaguers Josh Zeid and Nate Freiman have launched a digital show called The Launch Angle. You can watch it live or see replays using the Fancred app.
Ron Kaplan (@RonKaplanNJ) hosts Kaplan's Korner, a blog about Jews and sports. He is the author of three books, including The Jewish Olympics: The History of the Maccabiah Games and Hank Greenberg in 1938: Hatred and Home Runs in the Shadow of War.
# # #
Get your Jewish Baseball News updates via e-mail