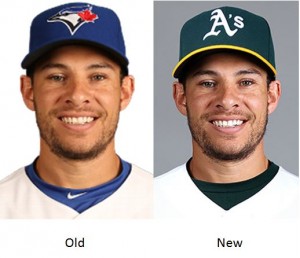 By Scott Barancik, editor
Danny Valencia, who was as shocked as his fans were when the Toronto Blue Jays designated him for assignment on Saturday (8/1/2015), has been claimed off waivers by the Oakland Athletics.
The 30-year-old Florida native was hitting .296 with 7 HRs, 13 doubles, and 29 RBIs in 162 at-bats when the Blue Jays decided to move him off the team's roster. A versatile utility man who spent most of his time in left field this season but also manned right field, third base, second base and first base, Valencia will join Ike Davis and Sam Fuld on what now will be this season's most Jewish major-league team.
Valencia is losing a lot, too. In leaving Toronto, he gives up a clubhouse he loves, an exciting and highly-productive Jewish duet with teammate Kevin Pillar, and a 55-52 team whose playoffs chances rose with this week's acquisition of ace pitcher David Price. The A's, by contrast, are last in the A.L. West with a 47-60 record.
But Valencia is nothing if not resilient, having played for five teams since his 2010 debut with the Minnesota Twins, when he finished third in voting for A.L. Rookie of the Year.
Want our daily updates sent free to your e-mailbox? Click here