Israel to play baseball in 2020 Olympics
September 23, 2019 (Monday)
By Scott Barancik, Editor
A veteran oddsmaker wouldn't have taken the bet. A Hollywood producer wouldn't have entertained such a preposterous plot line.
No one — except perhaps Israel Association of Baseball president Peter Kurz, the eternally optimistic uncle you might dismiss as delusional — would have believed the Israeli national baseball team could earn a berth in the 2020 Olympics, where it likely will face powerhouse teams such as the United States, Japan, and the Dominican Republic.
As a whole, Israel's current roster is far less experienced and polished than even the "has-beens and wannabes" who led the team to unlikely success in the 2017 World Baseball Classic, a run that inspired the documentary Heading Home.
The last time an Israeli team from any sport reached the Olympics was 1976, when its men's soccer team competed in Montreal. No one from Israel's current baseball team — not even 40-year-old Tel Aviv native Shlomo Lipetz — was alive back then.
But in its long slog from obscurity, Israel's baseball team has repeatedly beaten the odds, and this past week was no different.
On Sunday, the team defeated South Africa by a score of 11-1 to win a six-team Olympic qualifying tournament in Italy, thus earning the right to represent Europe and Africa in Tokyo (see full-game replay). Among the teams Israel (4-1) vanquished during the September 18-22 tourney were top seeds Netherlands, Italy and Spain, each of which had soundly beaten Israel a week earlier at the European Championships.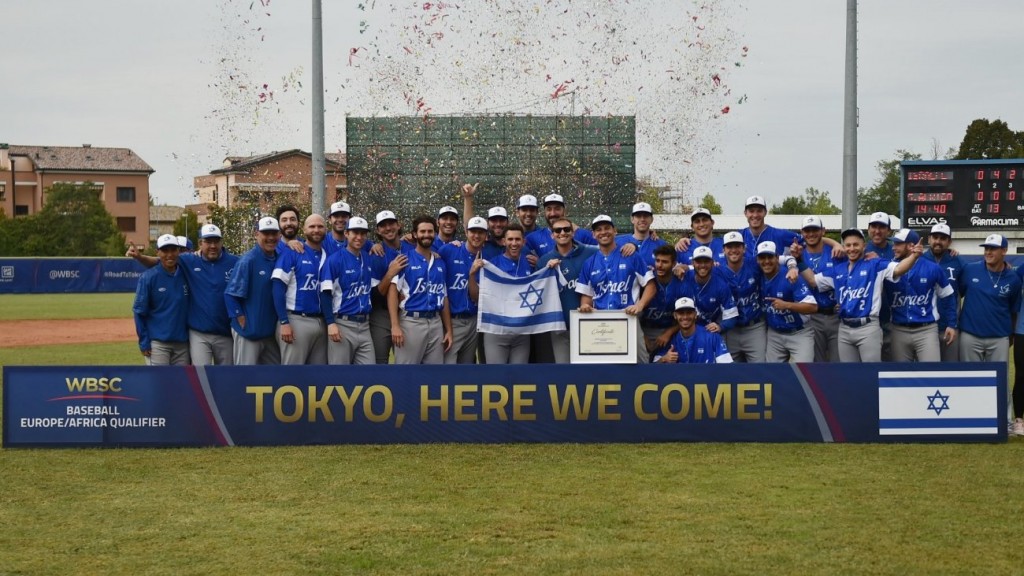 Despite hitting only .234 in the qualifiers, Israel was the highest-scoring team. Danny Valencia, a former Major Leaguer who last played in 2018, led all tournament players with 3 home runs and 9 RBIs, while his .375 average ranked #5. Former minor-league prospect Nick Rickles hit .316 with 2 home runs and 6 RBIs. (Click here to see complete stats.)
Israel truly shone on the mound, where it maintained a tournament-best 2.25 ERA. The clear standout was starter Joey Wagman, an independent-league player who finished 2-0 with a 0.56 ERA and a complete-game shutout against Spain.
Ben Wanger also turned heads. A 2019 graduate of Yale University, he hit a respectable .231 with 2 doubles and 3 RBIs while playing first base and designated hitter. But the two-way player also pitched, tossing 4.1 scoreless innings against the Czech Republic.
What will the baseball team's Olympic berth mean to rank-and-file Israelis? Hard to know. Ending a 44-year drought in Olympic team sports has to be worth something. On the other hand, most Israelis remain unfamiliar with baseball, and it's unclear how much pride they will take in the team's players, a group largely led by Americans who obtained Israeli citizenship this year in order to qualify.
But there's no question how much it all means to teammates like Alon Leichman, a pitcher and native Israeli.
"I can't believe I'm saying this: We are Olympic athletes," he tweeted.
Get your Jewish Baseball News updates via E-mail, Facebook, Twitter or Instagram