September 21, 2021 (Tuesday)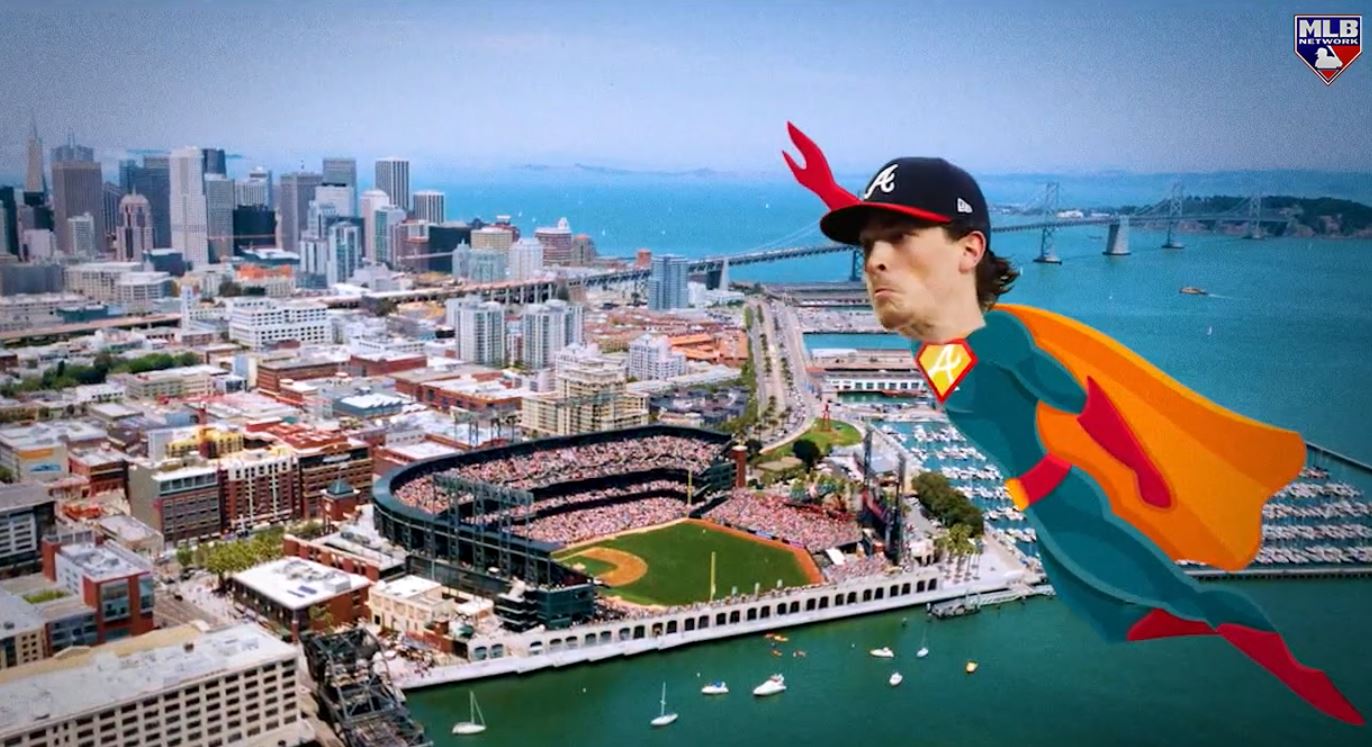 Mazel tov
Every year, current and former Major Leaguers issue a Heart & Hustle award to one player on each team. The winning player "demonstrates a passion for the game of baseball and best embodies the values, spirit and traditions of the game." It should come as no surprise that Kevin Pillar, in his first season with the Mets, was among those chosen for the 2021 award. Pillar's honor was his third, having won it in 2016 and 2017 with the Blue Jays.
Kudos to Team Israel on earning the silver medal at the 2021 European Championships last week. Competing in the biennial series for only the second time — and minus much of the star power it boasted at the 2021 Olympics, including Danny Valencia, Ian Kinsler, Nick Rickles and Ryan Lavarnway — Israel went 4-0 before falling to perennial favorite Netherlands in the final. SS Assaf Lowengart, a sabra, led the tournament with 4 HRs (tied) and 13 RBIs.
Stats to share
When New York faced off against St. Louis on September 15, three players with Jewish heritage homered. Kevin Pillar (Mets) — the only one of the trio who identifies as Jewish — hit a solo shot in the 6th inning. Cardinals starters Paul Goldschmidt and Harrison Bader, both of whom have Jewish fathers, connected in the 7th and 4th innings, respectively.
Max Fried (Braves) ranks #3 among MLB pitchers in range factor per 9 innings, a measure of defensive skill.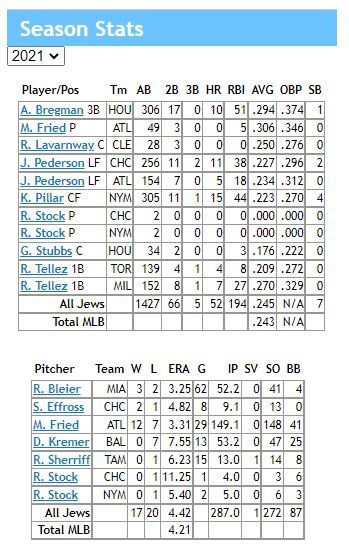 Weekly overview
Jewish batters hit a combined .250 (14-for-56) last week, with 2 HRs, 2 doubles, 8 RBIs, 5 walks, 10 strikeouts, and a .311 OBP (on-base percentage). The performance brought their collective batting average to .245, versus the Major League average of .243.
Jewish pitchers went 1-1 with 2 holds and a 1.64 ERA last week, yielding 7 hits and one walk over 11 combined innings while striking out 9. The performance trimmed their collective ERA to 4.42, versus the Major League average of 4.21.
At the plate
On the mound
Max Fried (Braves) earned his fifth straight win with a September 19 shutout over the Giants, yielding just 3 hits and a walk over 7 innings while striking out 5. "We [Atlanta] needed a superhero to come and save us," said Mark DeRosa on the MLB Network, "and time and time again, that's what Max Fried, number 54, has done…He flew into San Francisco, and he was dominant."
Richard Bleier (Marlins) tossed 2 perfect innings over 2 games last week, striking out one and earning his 17th hold of the season. The 34-year-old southpaw needed only 11 pitches to retire the 5 batters he faced.
Scott Effross (Cubs) went 0-1 with a hold and a 9.00 ERA over 3 appearances, yielding 4 hits and zero walks over 2 combined innings while striking out 3.
Players to watch
P Kenny Rosenberg (Rays/Triple-A/Durham Bulls) was magnificent in a September 17 relief appearance, striking out 7 of the 9 batters he faced in 3 perfect innings. So far this season, Rosenberg is 3-1 with 3.03 ERA, 2 holds, a save, and 55 strikeouts in 38.2 innings.
SS Zack Gelof (Athletics/Low-A/Stockton Ports), a 2021 draftee, caught fire on September 14, going 5-for-6 with 2 HRs, a double, and 4 RBIs.
P Jacob Steinmetz (Diamondbacks/rookie/ACL D-Backs), an 18-year-old hurler selected in the third round of the 2021 draft, made his pro debut on September 13. Though the performance in and of itself was not memorable — Steinmetz struggled over 1.1 innings — it marked a rare professional appearance for an Orthodox Jewish athlete.
Transactions
C Garrett Stubbs (Astros) was optioned to Triple-A on September 17.
C Ryan Lavarnway (Indians) was designated for assignment on September 14 and then outrighted to Triple-A on September 16.
Injured list
1B Rowdy Tellez (Brewers), right patella strain, since September 12.
P Robert Stock (Mets), right hamstring strain, since July 21. Out for the season.
# # #
For the latest information from Jewish Baseball News, follow us on Facebook, Twitter or Instagram
You also can get selected updates via e-mail