Games played thru August 21, 2022
August 23, 2022 (Tuesday)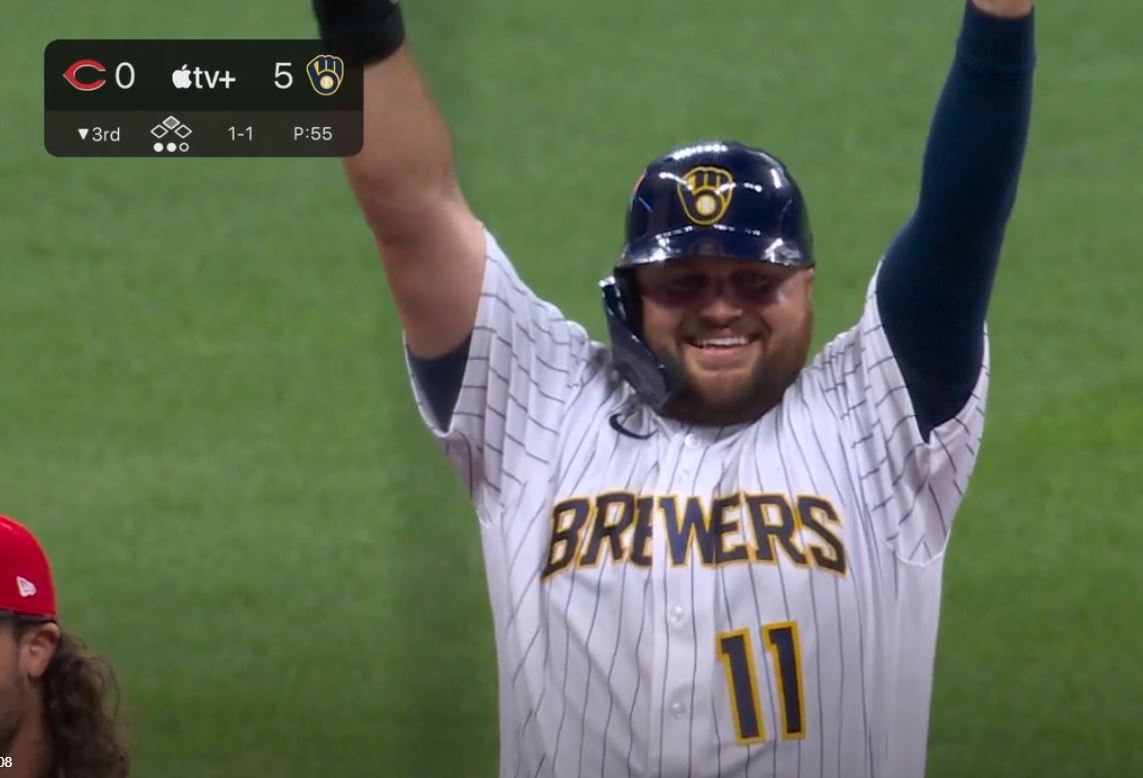 By Scott Barancik, editor
Jewish Baseball News' most recent MLB update took us through games played June 17. Following is an overview of what has happened since then, through games played August 21.
Mazel Tov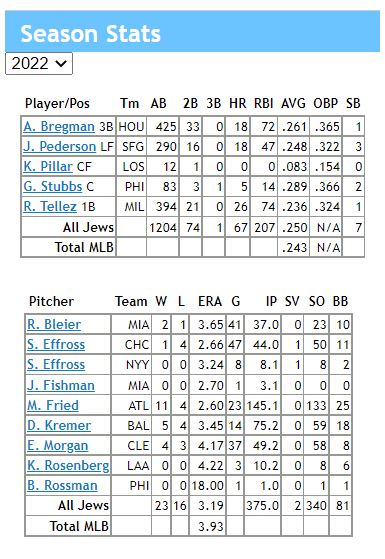 Season overview
Jewish pitchers continue to outpace their peers in 2022. Through August 21, they were a combined 23-16 with a 4.2 strikeout-to-walk ratio and a 3.19 ERA, substantially better than the MLB average ERA of 3.93.
Jewish batters are hitting a combined .250 so far this season, better than the MLB average of .241. They also are hitting HRs at a far faster clip than the Majors as a whole — one for every 18.0 at-bats, versus one in 31.5 ABs.
Stats to share
C Garrett Stubbs (Phillies) packs a lot of power into a small frame. So far, he is one of only 11 Major Leaguers to hit a home run this season who stand no more than 5'11" and weigh no more than 170 pounds. Diminutive second baseman Jose Altuve of the Astros (5'6″ and 166 pounds) leads the pack with 20 HRs, but Stubbs' HR pace (one every 16.6 at-bats) ranks #1.
1B Rowdy Tellez (Brewers) celebrated on August 5 when he stole second base. He is one of just 5 MLB players to steal a base this season who stand at least 6'4″ and weigh at least 255 pounds.
Tellez is among National League leaders in multiple categories, including #2 in intentional walks (9), #2 in fielding percentage among first basemen (.999), #2 in maximum exit velocity (116.9 mph), #4 in at-bats per HR (15.2) and hard-hit balls (40.4%), #7 in HRs (26/tied), and #10 in RBIs (74). Not bad for a 30th-round draft pick. (Special thanks to reader Jack W. for providing JBN with multiple statistical insights.)
SS Alex Bregman (Astros) is among N.L. leaders in multiple categories, including #1 in lowest swing percentage at balls outside the strike zone (21.2%), #3 in walk-to-strikeout ratio (1.05) and runs scored (72), #6 in highest walk percentage (12.9%), #7 in RBIs (73/tied) and wins above replacement (4.1), #8 in fewest swings and misses on pitches (5.6%), and #9 in lowest strikeout rate (12.4%).
Among N.L. hitters with at least 250 ABs, LF Joc Pederson (Giants) ranks #3 in hard-hit balls (52.7%) and #4 in average exit velocity (92.9 mph). (NOTE: Pederson is not qualified to win a batting title in 2022 because he will fall short of the minimum number of at-bats. JBN set a lower AB minimum — 250 — in order to show how Pederson lines up against his peers.)
P Dean Kremer (Orioles) had three consecutive scoreless outings of five innings or more from June 17 through June 28. The Oriole record of four straight scoreless outings is held by Hall of Fame hurler Jim Palmer and two others.
P Max Fried (Braves) is among N.L. leaders in multiple categories, including #1 in home run infrequency (0.43 per 9 innings) and average curveball vertical movement (-10.4), #2 in walk infrequency (1.55% per 9 innings) and fielding-independent pitching (2.49), #3 in strikeout-to-walk ratio (5.32), #4 in wins above replacement (4.4) and range factor per 9 innings (2.11), #5 in ERA (2.60), #6 in wins (11), and #10 in average fastball velocity (94.1 mph/tied).
At the plate
On the mound
# # #
For the latest information from Jewish Baseball News, follow us on Facebook, Twitter or Instagram
You also can get selected updates via e-mail