Here are your MLB highlights for the week of May 10-16, 2021:
Rest in peace
Richie Scheinblum passed away at age 78 on May 10. A right fielder, he spent 8 years in the Major Leagues with six different franchises. Richie earned a spot on All-Star team in 1972, a year he hit .300 with 8 home runs, 66 RBIs, and a .383 on-base percentage. A year prior, the Bronx native was named MVP of the American Association (Triple-A), hitting an astounding .388 with 25 HRs, 108 RBIs, 10 triples, 31 doubles, and a .490 OBP. Our best to Richie's loved ones.
Weekly overview
Jewish batters hit a combined .295 (23-for-78) last week, with 2 triples, 3 doubles, 7 RBIs, and a .360 OBP. The performance raised their collective season batting average to .260, well above the Major League average of .234.
Jewish pitchers went a combined 0-0 with a 2.06 ERA over 13 innings last week, fanning 10 batters while walking just 3. The strong week lowered their collective ERA from 6.55 to 5.68, versus the Major League average of 3.99.
Stats to share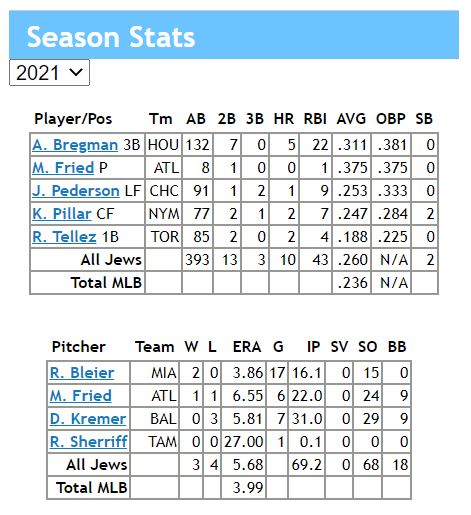 Based solely on his .188 batting average, 1B Rowdy Tellez (Blue Jays) would appear to be struggling at the plate this season. But it's not for lack of muscle. Through May 16, Tellez's exit velocity on batted balls ranked #7 in the Major Leagues, behind noted power hitters such as Giancarlo Stanton, Aaron Judge, and Pete Alonso. Perhaps Tellez's luck will change soon, and more of those hard-hit shots will find a gap or clear a fence.
Gabe Kapler's third season as manager of the Giants is off to a good start. San Francisco's 24-16 record is the 2nd-best in the Majors.
As P Richard Bleier (Marlins) regains his winning form, we recall his early years in the big leagues. Bleier recorded a 1.88 ERA over his first 100 games, the 16th-best performance in Major League history.
At the plate
On the mound
Max Fried (Braves) was dominant in a May 12 start, pitching 6 innings of one-run ball on 2 hits, 3 walks, and 4 strikeouts. Unfortunately, Atlanta's batters provided little support in a 4-1 loss to the Blue Jays.
Dean Kremer (Orioles) pitched well against the Yankees on May 14, yielding 2 earned runs over 5 innings on 5 hits, zero walks, and 4 strikeouts. Two solo home runs by Aaron Judge accounted for the damage.
Richard Bleier (Marlins) was perfect over a combined 2.1 innings, striking out 2, tossing just 21 pitches to 7 batters, and earning 2 holds. In his last 6 appearances, Bleier has held opposing batters to a .136 OBP over 6.1 innings, yielding 3 hits and zero walks while striking out 9.
# # #
For the latest information from Jewish Baseball News, follow us on Facebook, Twitter or Instagram
You also can get selected updates via e-mail