By Scott Barancik, Editor
Here are your minor-league highlights for the week of April 8-14, 2019: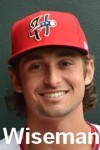 Hitter of the Week: Rhett Wiseman (Nationals)
RF Rhett Wiseman (Nationals/AA/Harrisburg Senators) hit .476 (10-for-21) last week with 4 HRs, 2 doubles, 8 RBIs, a stolen base, a hit-by-pitch, and a .577 on-base percentage. For his efforts, Wiseman was named Eastern League Player of the Week. Wiseman leads the league in home runs (6), extra-base hits (9), total bases (35), slugging percentage (1.061), and OPS (1.561). He ranks second in batting average (.424), hits (14/tied), RBIs (13), and OBP (.500/tied)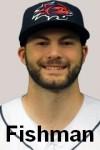 Pitcher of the Week: Jake Fishman (Blue Jays)
Jake Fishman (Blue Jays/AA/New Hampshire Fisher Cats) pitched 4.1 scoreless innings across 2 games, yielding just one hit and no walks while striking out 4 and earning his first win of the season.
Mazel tov
Other highlights
Transactions
Free agents
Disabled list
Note to readers: Minor-League Monday does not include stats for all current Jewish minor-leaguers. Click here for a complete list of players, and then click on a player's name to be taken to his stat page.
Get your Jewish Baseball News updates via E-mail, Facebook, Twitter or Instagram