October 6, 2015 (Tuesday)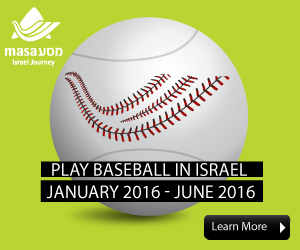 By Scott Barancik, editor
Starting today, Jewish Baseball News is introducing two daily features during the October MLB Playoffs: a numbers-driven item called "Stat of the Day," and "On This Date," which will recall special moments in Jewish sports history.
Both retweetable features are powered by Masa Israel, a joint project of the Jewish Agency for Israel and the Israeli government that connects Jewish young adults between the ages of 18 and 30 to gap-year, study-abroad, volunteer, teaching, and career-development programs such as internships and software coding boot camps in our homeland.
One of Masa Israel's newest and most intriguing offerings is the Israel Baseball Experience, launched with the Jewish Agency for Israel, which will host its first cohort of top Jewish-American baseball players in January 2016. Up to 25 men ages 18 to 29 with club, college, or minor-league experience will spend five months living in Tel Aviv, playing in the country's Premier league, and helping to promote and develop the game of baseball by working with Israeli coaches and kids in Tel Aviv, Jerusalem, Bet Shemesh, Raanana, and Modiin.
The $9,400 tuition – which scholarships can reduce to as little as $500 – includes housing, in-country transportation, Hebrew instruction (Ulpan), and a stipend for food, group travel, and cultural events.
Many participants in the Israel Baseball Experience also will be eligible to represent Israel – currently ranked 6th in Europe and 22nd worldwide — at the 2016 World Baseball Classic qualifiers in Brooklyn, NY.
"There are a lot of talented Jewish baseball players who can compete for Israel on the world stage," says Israel Baseball Experience creator Andy Bloch, noting there currently are about 15 Jews in Major League Baseball and roughly 100 in the minors and independent leagues, including Team Israel standout Dean Kremer. "With some of the negative news coming out of Israel, we have an opportunity to make a very positive statement to the world about our athletes."
In 2012, Israel's World Baseball Classic lineup included former MLB All-Star Shawn Green, current MLB Rookie of the Year candidate Joc Pederson of the playoff-bound L.A. Dodgers, Oakland A's slugger Nate Freiman, and manager Brad Ausmus, who went on to manage the Detroit Tigers. Former MLB All-Star Kevin Youkilis will join the 2016 WBC squad as a coach.
Masa Israel has 100,000 alumni, but the Israel Baseball Experience program represents its first foray into semi-pro sports. "We are super excited about the new sports initiative, which will enhance Israel's competitive advantage in baseball and help build future Jewish leaders," said Masa Israel CEO Liran Avisar Ben-Horin.
"On This Date" will borrow liberally from Day by Day in Jewish Sports History, an exhaustively-researched book by Bob Weschler. It will debut along with "Stat of the Day" on Tuesday, Oct. 6, the first day of the MLB playoffs. Both features will end at the conclusion of the World Series.
We hope you enjoy them, and we welcome your ideas and feedback.
Please click here for further information on the Israel Baseball Experience.
# # #