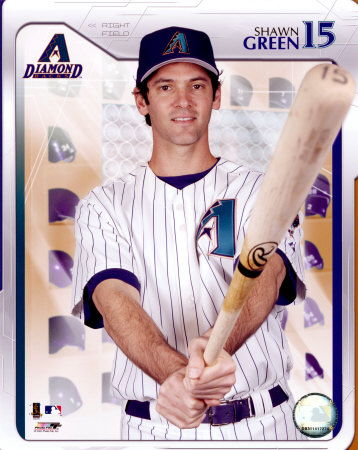 By Scott Barancik/Jewish Baseball News
It's been nearly 5 years since Shawn Green hung up his cleats, marking an end to a Major League career in which the tall slugger with the elegant swing hit .283, smashed 328 HRs, and drew a respectful 80 intentional walks.
Since then, the two-time All-Star has penned a book
, created a social media site, and expanded his charity work.
But Green's retirement is over. Former Los Angeles Dodgers teammate Brad Ausmus, who has agreed to coach Team Israel in the upcoming World Baseball Classic qualifiers, confirmed Monday that the Tustin, Calif., native will be on the roster.
It's exciting, if nerve-wracking, news. Reflexes and eyesight degrade quickly, and few ballplayers have successfully returned from so long an absence. Green could be a hero; he also could embarrass himself.
Green has several things going for him. Because he skipped college to turn pro, the 15-year MLB veteran is just 39 years old. He also won't be facing MLB-type pitching, or at least not right away; Israel's opponents in the WBC qualifiers are baseball-weak Spain, France, and South Africa. If the outfield proves too difficult, he is an experienced first baseman. And though it's not clear how fit he is, Green has not let his weight balloon since retiring, as this 2011 video shows.
Joining Green on the Team Israel roster will be former Major League outfielder Gabe Kapler, a fitness fanatic who last played for the Tampa Bay Rays in 2010 and undoubtedly remains in great condition.
One thing is for sure: we'll be rooting for these guys to succeed.
# # #

Buying something on Amazon.com? Click on our link