September 4, 2018 (Tuesday)
By Ron Kaplan, contributor
Hi-ho, boys and girls. Hope you all had a pleasant holiday. In the interest of saving time, I'm just going to cover the games played on Labor Day.
Alex Bregman -whose post-homer stares have become a meme — hit a two-out home run (#28) to get the ball rolling for the Houston Astros (85-53) in their 4-1 win over the visiting Minnesota Twins. His teammates celebrated in style. Bregman has a shot at 30 homers, 50 doubles, 100 RBIs, and just maybe a .300 batting average, something fewer than 20 players have accomplished in MLB history. MVP anyone?
Ian Kinsler led his team with three RBIs as the Boston Red Sox (95-44) beat the host Atlanta Braves, 8-2. Two of those runs came on a single with the bases loaded in the eighth to put the Sox up 5-2. Kinsler — who is being called a "stabilizing force" at second base — had already hit his 24th double of the year to drive in a run in the fifth.
Kevin Pillar was 1-for-3 with a walk as the Toronto Blue Jays (62-75) lost to the visiting Tampa Bay Rays, 7-1.
Joc Pederson was 0-for-4 batting leadoff as the LA Dodgers (75-63) lost to the visiting NY Mets, 4-2.
Ryan Braun was 0-for-3 with a walk as the Milwaukee Brewers (78-61) beat the visiting Chicago Cubs, 4-3.
Robert Stock did not appear for the San Diego Padres in their 6-2 win over the host Arizona Diamondbacks.
Gabe Kapler's Philadelphia Phillies (72-65) lost to the host Miami Marlins, 3-1.
Welcome back, Ryan Lavarnway. The Pittsburgh Pirates bought his contract from Triple-A, where he hit .288 with nine homers 33 RBIs, and a .385 on-base percentage in 77 games. The Braves are expected to bring back pitcher Max Fried soon.
Zei gezunt to Zack Weiss, who was released by the Cincinnati Reds on Sept. 1.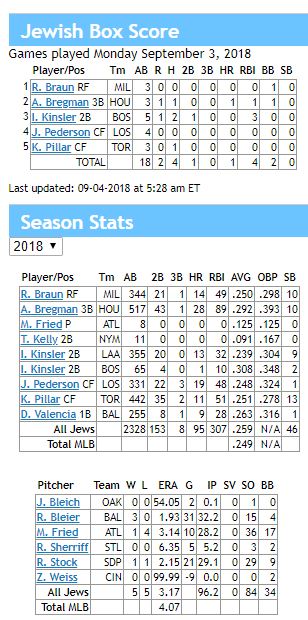 Ron Kaplan (@RonKaplanNJ) hosts Kaplan's Korner, a blog about Jews and sports. He is the author of three books, including The Jewish Olympics: The History of the Maccabiah Games and Hank Greenberg in 1938: Hatred and Home Runs in the Shadow of War.
Get your Jewish Baseball News updates via e-mail