September 12, 2018 (Wednesday)
By Ron Kaplan, contributor
Mazel tov to the Boston Red Sox, who clinched a playoff berth with their 99th win last night, a 6-2 decision over the visiting Toronto Blue Jays (65-79). Ian Kinsler was 1-for-4, a two-out single off the Monster to give the Sox a 6-2 lead in the eighth inning.
Like Kinsler, Toronto's Kevin Pillar was 1-for-4 with an RBI. His two-out single in the sixth gave the Jays a 2-0 lead.
He also made a nice defensive play in the bottom of that frame.
Toronto rookie sensation Rowdy Tellez flied out as a pinch-hitter in the ninth.
Ryan Lavarnway made his first appearance of the season for the Pittsburgh Pirates (71-73), cracking a pinch-hit double and eventually coming around to score in the ninth inning of an 11-5 loss to the host St. Louis Cardinals.
Joc Pederson got a rare start and provided the only run for the LA Dodgers (78-67) in their 3-1 loss to the host Cincinnati Reds. The run came in the sixth on Pederson's 20th home run of the year. He also singled in four at-bats, accounting for 40 percent of the Dodgers' hits. It was their six loss to the woeful Reds this year.
Alex Bregman — described by Hall of Fame inductee Pedro Martinez as a "mini Mike Trout" — had his second hitless game in a row, going 0-for-4 as the Houston Astros (91-54) beat the host Detroit Tigers, 5-4. He had hit in 28 of his last 31 contests.
Ryan Braun was 0-for-3 as the Milwaukee Brewers (83-63) were shut out by the host Chicago Cubs, 3-0. He was robbed of a base hit in the ninth on this superb play by Addison Russel.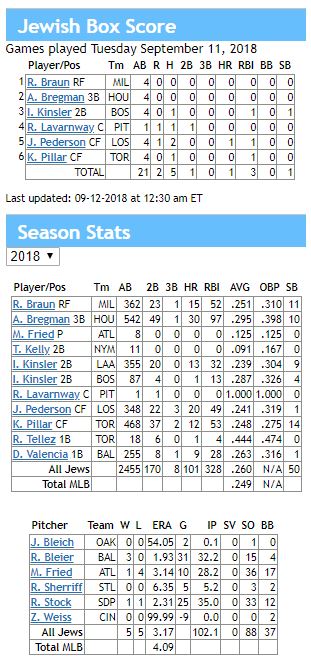 Robert Stock did not pitch for the San Diego Padres (58-88) in their 2-1 win over the host Seattle Mariners.
Gabe Kapler's Philadelphia Phillies (74-70) dropped a doubleheader to the visiting Washington Nationals, 3-1 and 7-6. They have lost eight of their last ten games and have dropped to 6.5 games behind the Atlanta Braves (81-64) , who beat the host San Francisco, 4-1, without the services of Max Fried.
Ron Kaplan (@RonKaplanNJ) hosts Kaplan's Korner, a blog about Jews and sports. He is the author of three books, including The Jewish Olympics: The History of the Maccabiah Games and Hank Greenberg in 1938: Hatred and Home Runs in the Shadow of War.
Get your Jewish Baseball News updates via e-mail