By Ron Kaplan, contributor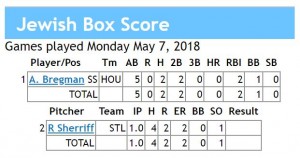 The usual light schedule for a Monday…
Alex Bregman had two doubles and a walk in six trips to the plate as the Houston Astros (22-15) crushed the host Oakland A's, 16-2. Bregman drove in the last of his team's two runs. He also had two more errors, both coming on wild throws. Meanwhile, the MLB Network debated whether Bregman deliberately obstructed a baserunner the day before:
Ryan Sherriff had a tough outing, giving up two runs on four hits over one inning while striking out one as the St. Louis Cardinals (20-13) were shut out by the visiting Minnesota Twins, 6-0.
Gabe Kapler's Philadelphia Phillies (19-15) mauled the visiting San Francisco Giants, 11-0.
Ron Kaplan (@RonKaplanNJ) hosts Kaplan's Korner, a blog about Jews and sports. He is the author of three books, including The Jewish Olympics: The History of the Maccabiah Games and Hank Greenberg in 1938: Hatred and Home Runs in the Shadow of War.
# # #
Get your Jewish Baseball News updates via e-mail