By Ron Kaplan, contributor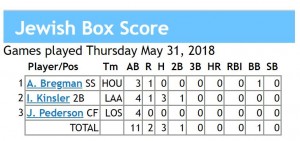 Ian Kinsler continued his hot hitting, going 3-for-4 (see below) with his 10th double and a run scored, but it didn't prevent the LA Angels (30-27) from losing to the host Detroit Tigers, 6-2. Maybe he just had some extra incentive versus his old team: he had nine hits in 14 at-bats over the four-game series with a homer, three doubles, three RBIs and two walks.
Alex Bregman was o-for-3 with a walk and a run scored as the Houston Astros (36-22) beat the visiting Boston Red Sox, 4-2.
Joc Pederson struck out twice in four at bats hitting out of the leadoff spot as the LA Dodgers (26-30) lost to Gabe Kapler's visiting Philadelphia Phillies (31-23), 2-1. (Read here about Kapler's unusual way of thinking.)
The game between the NY Yankees and host Baltimore Orioles (Danny Valencia, Richard Bleier) was postponed by rain. Valencia should be back from paternity leave for tonight's contest.
Ryan Braun and the Milwaukee Brewers had the day off, as did Kevin Pillar and the Toronto Blue Jays.
Ron Kaplan (@RonKaplanNJ) hosts Kaplan's Korner, a blog about Jews and sports. He is the author of three books, including The Jewish Olympics: The History of the Maccabiah Games and Hank Greenberg in 1938: Hatred and Home Runs in the Shadow of War.
# # #
Get your Jewish Baseball News updates via e-mail