By Ron Kaplan, contributor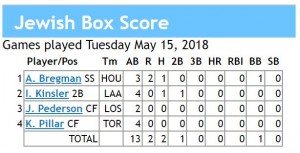 Sorry no post on Monday, but just my luck that my street lost power during the storms that hit the area. Won't get it back until tonight at the earliest but since I have the day off, I'm writing remotely from my local library. So without further adieu…
Alex Bregman was 1-for-3 with his 28th walk on Tuesday, scoring two runs and making a flashy play at third as the Houston Astros (27-17) beat the host LA Angels (25-12), 5-3. His .381 on-base percentage is tied for #1 on the Astros. Ian Kinsler had a double in four at-bats for the Halos.
Ryan Braun (back tightness) did not appear for the Milwaukee Brewers (25-18), who lost to the host Arizona Diamondbacks, 2-1. Is he heading into that portion of an athlete's life where every little knick and ping is a big deal?
Joc Pederson flied out as a pinch-hitter in the fifth for the LA Dodgers (16-25), who lost to the host Miami Marlins, 4-2. Pederson remained in the game in center and was 0-for-1 in a subsequent trip to the plate.
Kevin Pillar was 0-for-4 as the Toronto Blue Jays (21-21) lost their interleague scrimmage with the host NY Mets, 12-2.
The game between the Philadelphia Phillies (Gabe Kapler) and Baltimore Orioles (Danny Valencia, Richard Bleier) was postponed by rain. But you can check out these 10 questions with Bleier.
Ron Kaplan (@RonKaplanNJ) hosts Kaplan's Korner, a blog about Jews and sports. He is the author of three books, including The Jewish Olympics: The History of the Maccabiah Games and Hank Greenberg in 1938: Hatred and Home Runs in the Shadow of War.
# # #
Get your Jewish Baseball News updates via e-mail