By Ron Kaplan, contributor
In the only MOT player action Thursday, Alex Bregman, batting in the leadoff spot, was 0-for-4 with a walk and a run scored as the Houston Astros (45-25) completed a three-game sweep of the host Oakland As with a 7-3 win. In fact, it was the eighth straight win for Houston.
Baltimore Orioles reliever Richard Bleier, who left Wednesday's game with a lat injury, is listed as "day-to-day" (aren't we all?), but I'm willing to be he'll go on the disabled list soon.
Gabe Kaple's Philadelphia Phillies (35-31) beat the visiting Colorado Rockies, 9-3.
All the other boys had the day off. Here are a couple of articles about Joc Pederson's improvement over the last few weeks. But consistency is the key.
And finally, remember Nate Freiman? Though he's retired from playing baseball, he's reinventing himself as a writer and analyst of baseball analytics.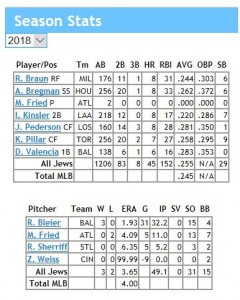 Ron Kaplan (@RonKaplanNJ) hosts Kaplan's Korner, a blog about Jews and sports. He is the author of three books, including The Jewish Olympics: The History of the Maccabiah Games and Hank Greenberg in 1938: Hatred and Home Runs in the Shadow of War.
# # #
Get your Jewish Baseball News updates via e-mail