July 25, 2018 (Wednesday)
By Ron Kaplan, contributor
Lots of extra time and good performances yesterday…
Robert Stock had the best game of his young Major League career, tossing three scoreless innings for the San Diego Padres (42-62) in a 6-3 loss to the host NY Mets (41-57). Stock struck out five — including Jose Bautista, who whiffed on a 97-mph fastball — and allowed no walks and just one hit, a double to opposing pitcher Zack Wheeler.
Ty Kelly did not appear for the Mets and later was designated for assignment.
Alex Bregman got the festivities started with his 21st home run, a two-run job in the first inning to give the Houston Astros (67-36) an early lead over the host Colorado Rockies. He added a single and a walk in his five trips to the plate as the Astros won 8-2 in 10 innings, scoring six times in the top of the frame. And all this after a one-hour rain delay.
Joc Pederson had four hits, including two doubles, in seven at-bats as the LA Dodgers (56-45) fell to Gabe Kapler's Philadelphia Phillies (56-44), 7-4, in 16 innings thanks to a three-run, walk-off homer by Trevor Plouffe. Pederson scored one run and drove in another.
Danny Valencia had two singles in four at-bats for the Baltimore Orioles (29-73) in their 7-6 win over the visiting Boston Red Sox.
Ian Kinsler had a single and double and scored a run in four at-bats, but the LA Angels (50-52) lost to the visiting Chicago White Sox, 4-2.
Ryan Braun doubled and scored a run as a pinch hitter in the seventh inning as the Milwaukee Brewers (58-45) beat the visiting Washington Nationals, 5-4, in 10 innings.
Max Fried, on the DL, will make a rehab start for the Atlanta Braves' AA affiliate today.
Jeremy Bleich did not appear for the Oakland A's (59-43) in their 13-inning, 13-10 win over the host Texas Rangers.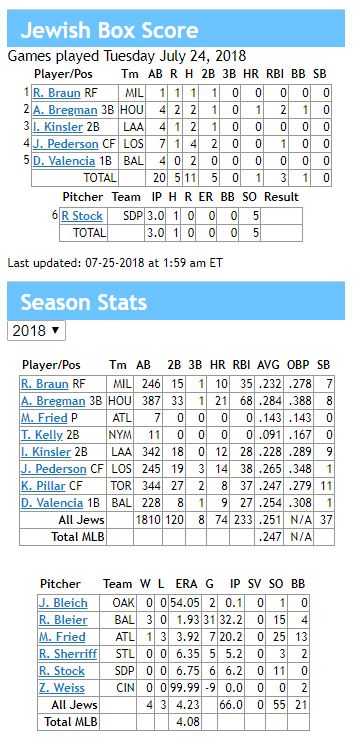 # # #
Get your Jewish Baseball News updates via e-mail