By Ron Kaplan, contributor
Joc Pederson collected his first home run of July and 12th overall as the LA Dodgers (45-39) crushed the visiting Pittsburgh Pirates, 17-1. It was Pederson's only hit in five at-bats and led off the fourth inning. He also made this nice catch.
Ryan Braun was 1-for-5 as the Milwaukee Brewers (49-35) beat the visiting Minnesota Twins, 6-5, in 10 innings.
Kevin Pillar was 0-for-4 as the Toronto Blue Jays (39-45) lost to the visiting Detroit Tigers, 3-2, in 10 innings. I missed one of the great plays in Pillar's bag of tricks on Sunday against the Tigers. Think that will help him win a Gold Glove at last?
Max Fried did not appear for the Atlanta Braves (49-34) in their 5-3 win over the host NY Yankees.
So with the lousy season the NY Mets are having, and considering he was selected for the AAA All-Star Game, how about Zach Borenstein already?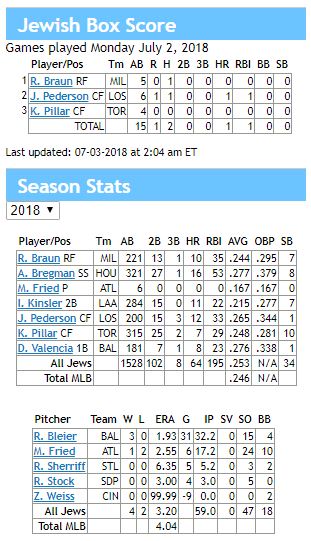 Ron Kaplan (@RonKaplanNJ) hosts Kaplan's Korner, a blog about Jews and sports. He is the author of three books, including The Jewish Olympics: The History of the Maccabiah Games and Hank Greenberg in 1938: Hatred and Home Runs in the Shadow of War.
# # #
Get your Jewish Baseball News updates via e-mail