August 30, 2018 (Thursday)
By Ron Kaplan, contributor
Alex Bregman hit his AL-leading 43rd double plus a single while walking twice on Wednesday, scoring one run and driving in another as the Houston Astros (82-51) beat the visiting Oakland A's, 5-4, on a walk-off homer. One of Bregman's walks came with the bases loaded in the fourth to give the Astros a 4-3 lead. The hits raised his batting average to .293, and his 86 RBIs with a little more than a month to go gives him a legitimate shot at 100. Now some might say that BA and RBIs aren't great indicators of offensive value, but I leave it to you to decide. The win, coupled with the Seattle Mariners' loss gives Houston a 2.5 game lead for first in the AL West.
Robert Stock did not pitch for the San Diego Padres (52-83) in their 8-3 win over the visiting Mariners.
Ian Kinsler's single drove in one of the 11 seventh-inning runs scored by the Boston Red Sox (92-42) en route to a 14-6 win over the visiting Miami Marlins. Kinsler had already doubled (#22) in that inning. He scored twice in the contest.
Kevin Pillar hit his 11th home run — a solo shot in the second — and singled in four at-bats as the Toronto Blue Jays (60-73) were doubled up by the host Baltimore Orioles, 10-5. There were about 12,000 people in attendance at Camden Yards, very few of whom seemed to be in the left field stands when his ball went out
Ryan Braun was 1-for-5 and long gone by the time the Milwaukee Brewers (74-60) managed to hold off the host Cincinnati Reds, 13-12, in 10 innings.
Joc Pederson was a defensive replacement as the LA Dodgers (72-61) beat the host Texas Rangers, 3-1. The Dodgers — who won their fifth in a row — made MLB history by becoming the first team to record three home runs and a triple without picking up a single or double in a game.
Gabe Kapler's Philadelphia Phillies (71-62) beat the visiting Washington Nationals, 8-6.
Saturday opens the last month of the regular season, a time when rosters can expand to 40 players. Will there be any MOTs among the call-ups? Scot Barancik of JewishBaseballNews.com offers his take on the possibilities.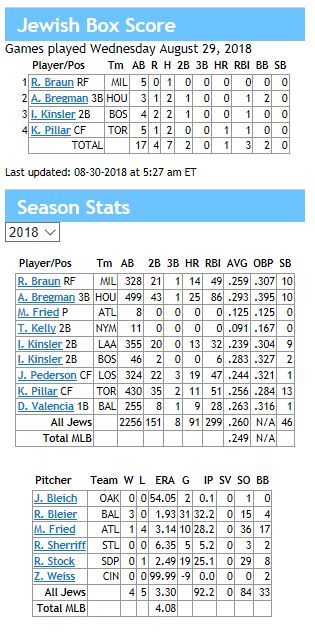 Ron Kaplan (@RonKaplanNJ) hosts Kaplan's Korner, a blog about Jews and sports. He is the author of three books, including The Jewish Olympics: The History of the Maccabiah Games and Hank Greenberg in 1938: Hatred and Home Runs in the Shadow of War.
Get your Jewish Baseball News updates via e-mail