August 28, 2018 (Tuesday)
By Ron Kaplan, contributor
Limited action, as per usual for a Monday.
Alex Bregman was a triple shy of the cycle Monday night: two singles, his 41st double (to lead the American League; he almost had another but was thrown out at second), and his 25th home run made for a nice line in the box score. The opposite-field homer drove in three runs to help the Houston Astros (81-50) cruise to an 11-4 win over the visiting Oakland A's.
Kevin Pillar — who has just one hit in his last 12 at-bats — did not appear for the Toronto Blue Jays (60-71) in their 7-0 loss to the host Baltimore Orioles.
Gabe Kapler's Philadelphia Phillies (70-61) lost to the visiting Washington Nationals, 5-3. Kap's kids have lost seven of their last 10.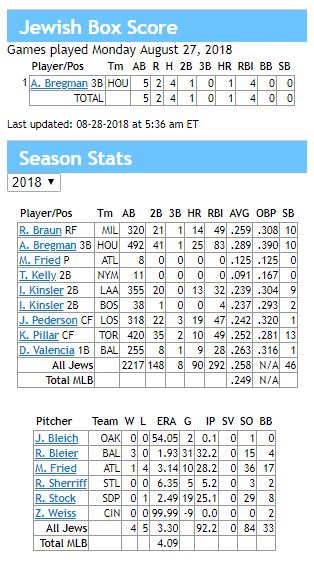 Ron Kaplan (@RonKaplanNJ) hosts Kaplan's Korner, a blog about Jews and sports. He is the author of three books, including The Jewish Olympics: The History of the Maccabiah Games and Hank Greenberg in 1938: Hatred and Home Runs in the Shadow of War.
Get your Jewish Baseball News updates via e-mail