August 22, 2018 (Wednesday)
By Ron Kaplan, contributor
Ryan Braun came on as a defensive substitute in the sixth inning, batting ninth. He had a single and an RBI double in two at-bats, but the Milwaukee Brewers (70-58) lost to the visiting Cincinnati Reds, 9-7. Braun's double — a two-strike bullet into the gap — tied the game at 7-7 in the eighth.
Kevin Pillar hit his 35th double, his only hit in four at-bats, as the Toronto Blue Jays (57-69) beat the visiting Baltimore Orioles, 8-2. Pillar scored one of those runs.
Ian Kinsler was 0-for-3 with an RBI as the Boston Red Sox (88-39) were doubled up by the visiting Cleveland Indians, 6-3.
Robert Stock picked up his first Major League hold on the strength of a perfect 1.1 innings of relief as the San Diego Padres (50-78) held off the host Colorado Rockies, 4-3. Nice piece on him in the San Diego Union.
Alex Bregman was 1-for-4 as the Houston Astros held off the host Seattle Mariners, 3-2, despite hitting into six double plays, including one by our boy. The Astros have lost seven of their last 10 and are deadlocked with the Oakland A's for first in the AL West.
Joc Pederson was 1-for-5 as the LA Dodgers lost to the visiting St. Louis Cardinals, 5-2. The Dodgers have lost seven of their last 10.
Gabe Kapler's Philadelphia Phillies (68-57) lost to the host Washington Nationals, 10-4. Like the Brewers, they are 4-6 over their last ten games. The dog days of summer are messing with "our" teams' playoff chances.
He's not a Member of the Tribe, but this Anthony Rizzo home run is worth a look: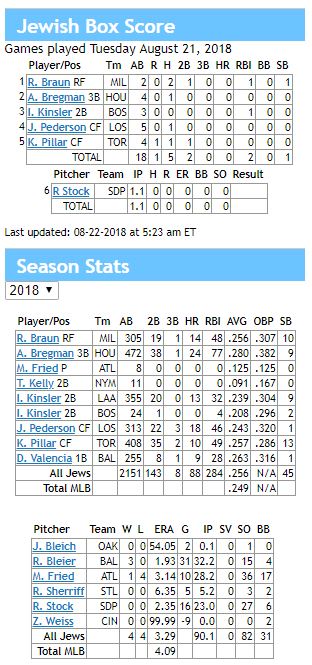 Ron Kaplan (@RonKaplanNJ) hosts Kaplan's Korner, a blog about Jews and sports. He is the author of three books, including The Jewish Olympics: The History of the Maccabiah Games and Hank Greenberg in 1938: Hatred and Home Runs in the Shadow of War.
Get your Jewish Baseball News updates via e-mail