August 21, 2018 (Tuesday)
By Ron Kaplan, contributor
Kevin Pillar had two doubles in four at-bats, scored a run, and drove in another as the Toronto Blue Jays (56-69) beat the visiting Baltimore Orioles, 5-3. Sorry, but why is he getting so much grief over his baserunning blunder on Saturday against the Yankees? Am I just too sensitive about it? Yes, agreed, it was not a smart move. But it's not like that one play cost the Jays the pennant. Chill.
Ryan Braun was 1-for-3 with a run scored as the Milwaukee Brewers (70-57) beat the visiting Cincinnati Reds, 5-3.
Alex Bregman had one of the Houston Astros' five hits in their 7-4 loss to the visiting Seattle Mariners. He also scored a run. The 'Stros (75-50) are now tied with the Oakland A's for first place in the AL West. By the way, Bregman (38) and Pillar (34) are in the top 10 AL hitters in doubles. In addition, Braun is 18 shy of 1,000 runs scored.
Ian Kinsler was 1-for-5 as the Boston Red Sox (88-38) fell to the visiting Cleveland Indians, 5-4.
Joc Pederson walked as a pinch-hitter for the LA Dodgers (67-59) in their 5-3 loss to the visiting St. Louis Cardinals.
Gabe Kapler's Philadelphia Phillies — who are pursuing what would be their first N.L. East title since 2011 — had the day off, as did Robert Stock and the San Diego Padres.
I'm going away for a few days, so it's possible you won't receive these daily updates for a bit.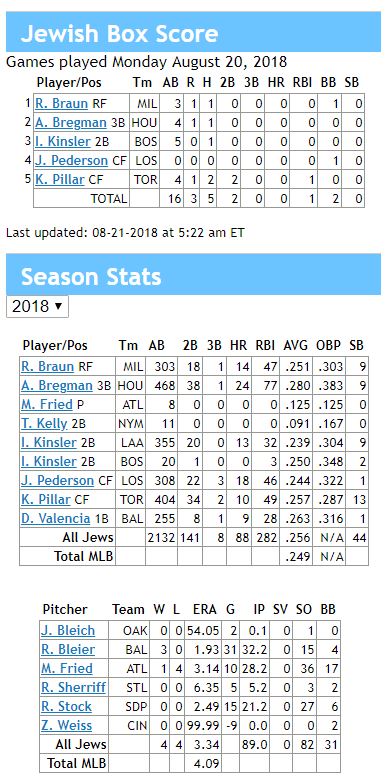 # # #
Ron Kaplan (@RonKaplanNJ) hosts Kaplan's Korner, a blog about Jews and sports. He is the author of three books, including The Jewish Olympics: The History of the Maccabiah Games and Hank Greenberg in 1938: Hatred and Home Runs in the Shadow of War.
Get your Jewish Baseball News updates via e-mail