By Ron Kaplan, contributor
Back from a great trip to the Hall of Fame in Cooperstown, where I spoke about my Hank Greenberg book.
But, my, what a lousy night for the trio of MOTs who appeared yesterday (plus one as a defensive replacement).
As they frequently say about games at Wrigley Field in Chicago, the wind was blowing out. Scott Feldman, recently off the DL and still having knee issues, lasted just 3.2 innings for the visiting Cincinnati Reds (51-71), and five of the seven hits he allowed left the yard. In all, he gave up six earned runs and stuck out one. If there's a positive note, it's that no one else was really that much better (misery loves company). Final score: Reds 13, Cubs 10. But more alarming: could this be Feldman's last game as a Red? Or last game, period? Sad, if so.
Although he wasn't actually charged with the loss, Brad Goldberg gave up what proved to be the "losing" run as the Chicago White Sox were bested by the host Texas Rangers, 9-8. He walked four and gave up a hit in two-thirds of an inning.
Alex Bregman was 0-for-4 as the Houston Astros (74-47) continued their doldrums, shut out 4-0 at the hands of the visiting Arizona Diamondbacks.
Kevin Pillar appeared as a defensive replacement for the Toronto Blue Jays (59-62) in their 5-3 win over the visiting Tampa Bay Rays.
Max Fried did not appear for the Atlanta Braves (54-65) in their 10-4 win over the host Colorado Rockies.
Could Joc Pederson's days as a Dodger be numbered? Now that Adrian Gonzalez is returning to action and with Cody Bellinger going lights-out, what does that mean for the streaky Joc?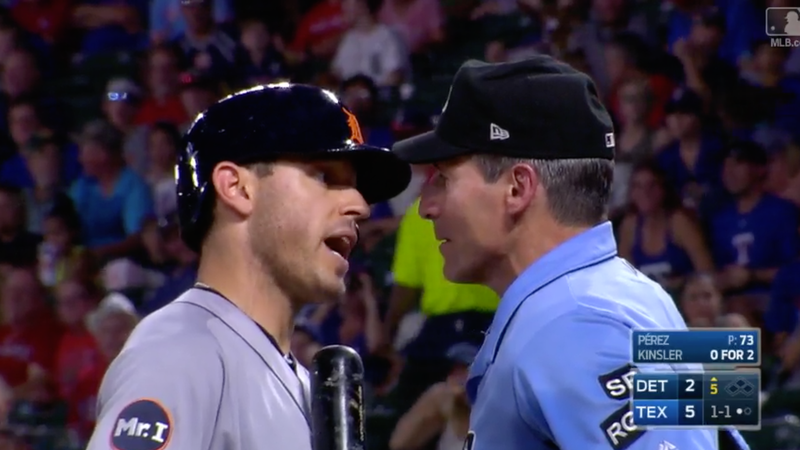 And the war of words continues for Ian Kinsler, who was ejected from a game a few days ago by umpire Angel Hernandez for arguing balls and strikes. Kinsler thinks Hernandez should look for a new line of work. The incident was deemed hot enough to be included in a segment on Pardon the Interruption, where co-hosts Tony Kornheiser and Michael Wilbon kinda/sorta stood up for the ballplayer in questioning the ump's ability without actually calling him incompetent. There are others who hold opinions similar to Kinsler, and based on the number of hits that came up in a Google search, they may have a point. So do you think there was a lot of pressure on Kinsler to shake hands with Hernandez at the Wednesday game? If the baseball thing doesn't work out for Ian anymore, there's always this.
Ron Kaplan (@RonKaplanNJ) hosts Kaplan's Korner, a blog about Jews and sports. He is the author of three books, including The Jewish Olympics: The History of the Maccabiah Games and Hank Greenberg in 1938: Hatred and Home Runs in the Shadow of War.
# # #
Get your Jewish Baseball News updates via e-mail