By Ron Kaplan, contributor
Not much action, as is not unusual for a Thursday…
Kevin Pillar was 2-for-4 with his 30th double of the year, but the Toronto Blue Jays (55-66) fell to the host KC Royals, 6-2.
Robert Stock threw one shutout inning of relief (two walks, two strikeouts) as the San Diego Padres lost to the visiting Arizona Diamondbacks, 5-1.
Gabe Kapler's Philadelphia Phillies had an epic game in the opener of their doubleheader with the visiting NY Mets, and not in a good way. In fact, things were so bad in a 24-4 loss — a Mets record for most runs — that: a) New York's leadoff batter homered on the first pitch of the game; b) one pitcher gave up seven runs in one inning, none of them earned; and c) the Phillies had not one but two position players take a turn on the mound. On the bright side, the Phillies (67-54) won the nightcap, 9-6.
The Boston Red Sox are expected to reinstate Ian Kinsler from the disabled list for Friday's game against the visiting Tampa Bay Rays. Meanwhile, the Milwaukee Brewers were hopeful they would not have to put Ryan Braun on the DL following the rib injury he sustained trying to make a catch. Max Fried makes a rehab start tonight for the Atlanta Braves' AAA affiliate.
Former JML Nate Freiman is now serving as ex–Major Leaguer in residence for FanGraphs.com, a stats-intensive website on baseball.
Finally, here's something you don't see every day.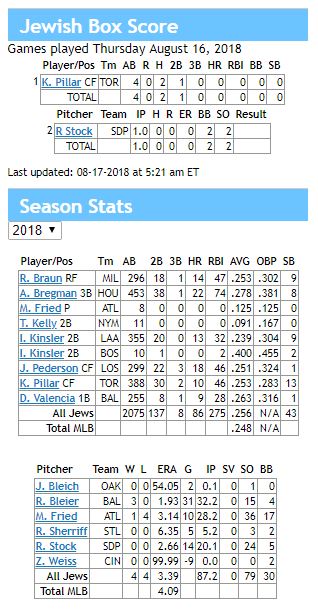 # # #
Ron Kaplan (@RonKaplanNJ) hosts Kaplan's Korner, a blog about Jews and sports. He is the author of three books, including The Jewish Olympics: The History of the Maccabiah Games and Hank Greenberg in 1938: Hatred and Home Runs in the Shadow of War.
Get your Jewish Baseball News updates via e-mail