Phillies rookie is newest Jewish major leaguer
January 16, 2023 (Monday)
By Scott Barancik, editor
Dalton Guthrie, a Philadelphia Phillies rookie who considered joining Team Israel for the upcoming World Baseball Classic, is the latest Major Leaguer to be identified as Jewish.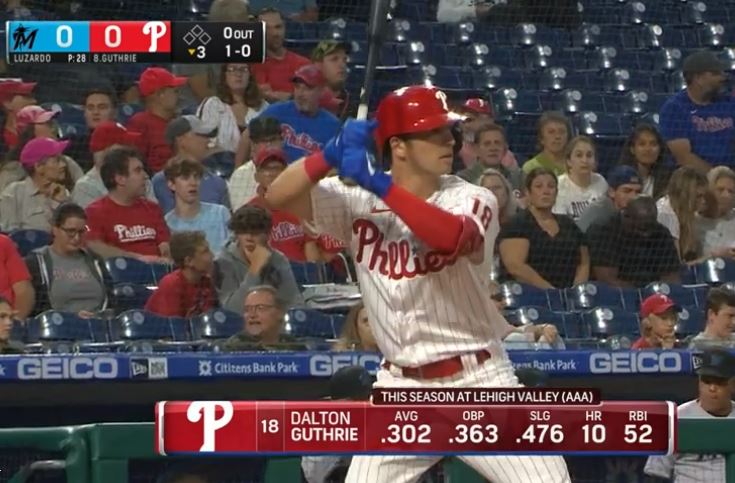 The lanky 27-year-old is a talented and versatile fielder. Plucked out of the University of Florida in the 6th round of the 2017 amateur draft, Guthrie went on to log 70 or more games at each of four separate positions in the minors, including shortstop, second base, centerfield, and third base.
His father, Mark, pitched for eight MLB teams over a 15-year career that ended in 2003.
Guthrie has stood out at every level. In 2014, he was one of just nine players nationwide named to the Rawlings High School Gold Glove Team. At the 2017 NCAA College World Series, he led national champion University of Florida with a .286 batting average. In 2022, he led the Lehigh Valley IronPigs (AAA) with 21 stolen bases.
But Guthrie saved the best for last. Called up in September 2022 to bolster the playoff-bound Phillies, he hit .333 (7-for-21) with a HR, 5 RBIs, stolen base, and a .500 on-base percentage. Guthrie even made it to the playoffs. In Game 3 of the 2022 N.L. Division Series against Atlanta, he came in as a pinch runner and stayed on to play right field for two innings.
Guthrie strongly considered joining Phillies teammate Garrett Stubbs on Team Israel for the upcoming World Baseball Classic, a quadrennial competition that takes place in March. But that would mean missing a big chunk of Spring Training, so Guthrie — who is hoping to make Philadelphia's opening-day roster — made the difficult choice to skip the WBC.
Please join us in welcoming Dalton.
# # #
For the latest information from Jewish Baseball News, follow us on Facebook, Twitter or Instagram
You also can get selected updates via e-mail