By Nate Fish, special to Jewish Baseball News
Are you a baseball player? Do you want to come to Israel?
The Israel Association of Baseball (IAB), in partnership with Masa Israel and Destination Israel, has created a program for baseball players with high school, college, or professional experience to travel to Israel to play and coach. The five-month program is called the Israel Baseball Experience. The goal of the program is to give participants the opportunity to continue their playing careers while also coaching kids and helping to develop baseball in Israel.
The IAB is looking for a select group of players to arrive in Israel in September 2015 as a pilot group for a larger program called the MASA Sports Initiative that seeks to bring hundreds of athletes from all sports to Israel in coming years.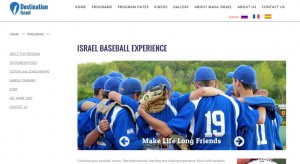 In addition to their baseball schedules, Israel Baseball Experience players will have housing, language, travel, and cultural experiences with Destination Israel, an organization that specializes in providing long-term internship experiences in Israel for thousands of young people. IBE players will live in Tel Aviv and join other MASA groups for regular trips around Israel. [Editor's note: Full tuition is $8,300, but partial grants are available.]
If this program had existed when I was coming out of college baseball, I would have done it. It's a chance to get involved in Israel Baseball on the ground level and have a real impact.
To apply or find out more about the Israel Baseball Experience, click here.
_________________
Nate Fish is national director of the Israel Association of Baseball, a former teammate of Kevin Youkilis at the University of Cincinnati, and the self-proclaimed King of Jewish Baseball. Read his blog here, and follow him on Twitter.
Want our daily updates sent free to your e-mailbox? Click here