JEWISH BASEBALL NEWS — The running count of Jews chosen in the 2011 MLB draft has reached 8.
Last week we reported that at least four of the 1,500 players selected in the three-day amateur draft were Jewish. But thanks to help from Jewish Baseball News reader Dan Cooper, we have identified 4 more. They are: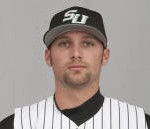 Nick Rickles (Oakland A's: 14th round, 436th overall pick). A 6'3″ catcher who just completed his junior year at Stetson University, the Loxahatchee, Fla., native led his team in batting average (.347/tied), HRs (12), doubles (20), and slugging percentage (.600) in 2011. Rickles, named a second-team All-American by Baseball America, struck out just 10 times in 245 at-bats — giving him more HRs than strikeouts — while drawing 25 walks. He was the 7th toughest batter to strike out in NCAA/Division I play this year. According to this article, he was "expected to go 10 rounds higher and might be tough to sign in this round." 
Jack Marder (Seattle Mariners: 16th round, 483rd overall). A 6'0″ catcher (and converted shortstop) who just completed his sophomore year at the University of Oregon, the Calabasas, Calif., native showed good speed in 2011 (10 stolen bases in 13 attempts) but only modest success at the plate, hitting .209 with 2 HRs, 19 RBIs, and a .360 on-base percentage.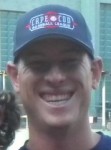 Harvard University may have compiled a miserable 9-36 record in 2011, but that didn't stop Max Perlman (Oakland A's: 35th round, 1,066th overall pick) from excelling. A 6'7″ starting pitcher who just graduated from Harvard University, the Longwood, Fla., native missed most of his sophomore and junior seasons with an elbow injury (and Tommy John surgery) but struck gold during his senior year, leading all Ivy Leaguers with an 1.80 ERA, holding opposing teams to a .213 batting average, and recording more strikeouts (55) than hits surrendered (46). (See local article on him.)
Jadd Schmeltzer (Boston Red Sox: 49th round, 1,492nd pick). A 6'5″ starting pitcher who just graduated from Cornell University, the Tappan, N.Y., native went 3-4 with a 3.63 ERA and was named Pitcher of the Year on a team that finished 2011 with a 10-30 record.
Details on our four previously-identified players (listed below) are available here:
Lenny Linsky (Tampa Bay Rays: 2nd round, 89th overall pick)
Zach Borenstein (Los Angeles Angels: 23rd round, 705th overall)
David Colvin (Seattle Mariners: 27th round, 813rd overall pick)
Benny Sosnick (San Francisco Giants: 49th round, 1,497th pick)
For updates on the 2011 draft, follow us on Facebook, Twitter, or Google Reader.
# # #
Make life easier. Get Jewish Baseball News headlines automatically.

'Like' us on Facebook

Follow us on Twitter

Track us via Google Reader