November 10, 2016 (Thursday)
By Rob Isbitts, correspondent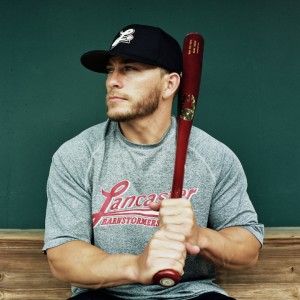 Blake Gailen's go-ahead home run this September helped propel Team Israel into the World Baseball Classic's main tournament. It also introduced Jewish fans to a 31-year-old journeyman many didn't know.
Gailen is hardly unknown in the baseball world. Like the Johnny Cash song goes, he's been everywhere, man. Excluding his recent stint with Team Israel, the Los Angeles area native has played on at least 11 pro teams in three countries since graduating from the University of Nevada-Las Vegas with a communications degree in 2007.
Gailen is a baseball lifer. From the time he was crouched in front of the TV at age 3, telling his father he was "giving signs" while watching his home town Los Angeles Dodgers in the World Series, his love of the game and playing it the right way has been his north star.
"I won't stop playing baseball until I absolutely have to," he said in a recent interview with Jewish Baseball News.
Gailen was not drafted by an MLB team out of college, but he knew he could play pro ball. His first stop was an independent-league team in Anderson, S.C., where the clubhouse had no air conditioning or showers. He'd routinely pass up the opportunity to hose himself down near the field, instead leaving the ballpark to shower at home.
The South Coast League soon folded. But Gailen — who led all players with a .368 average that season and even did a little pitching, going 2-2 with a 2.88 ERA — moved on, his sights set on finding an MLB-affiliated team open to an undersized outfielder (5'9") with an oversized heart and batting average.
In a three-year stretch from 2009-2011, Gailen compiled legendary numbers on independent-league teams, hitting a combined .382, reaching base at a .467 clip, clubbing 20 home runs, and stealing 50 bases.
Not surprisingly, Major League teams noticed. Gailen got his first crack at affiliated ball when the Los Angeles Angels inked him mid-season in 2011 and assigned him to their Double-A team. Gailen underperformed, and over the next five years, the lefty experienced the familiar yo-yo that pro players often do, alternating between MLB affiliates at the Double-A and Triple-A levels and the independent Atlantic League, host to the most competitive pro baseball outside the MLB universe.
Nowhere has Gailen had a greater impact than with the Atlantic League's Lancaster Barnstormers, an aptly-named team for an athlete who has traveled as far as Mexico and Venezuela for the chance to play. In 2012, he hit .338 with 22 home runs and 25 stolen bases for the Barnstormers, leading Baseball America to name Gailen its Independent League Player of the Year. During multiple stops in Lancaster, he has become a fan favorite, team leader, and mentor to younger players.
Certainly, playing for Team Israel in the 2016 WBC qualifiers was a career highlight. Gailen learned about the team from Lancaster teammate and Team Israel veteran Charlie Cutler, and when he made the roster, it reunited him with former major leaguers Josh Satin and Ryan Lavarnway, who he had played with growing up in Southern California. "Josh Satin and I have been friends since we were kids. I attended his Bar Mitzvah," Gailen said.
Gailen says his ability to achieve on the field despite many setbacks with MLB-affiliated teams is due to his mental approach. "I always had the thought process that when it comes to the Major Leagues, it is not about me. It's about what the team needs," he said. "I hit .400 with the Rockies in [minor-league] spring training one year, but they just didn't have a spot for an outfielder because of decisions they made about promoting and demoting other players."
That numbers game is a harsh reality for players in all pro sports, but Gailen has had a unique ability to push through. His admirers include many ex-Major Leaguers who have played alongside him in the Atlantic League and witnessed his raw talent and effort.
If Gailen has his way – and if we're lucky — he'll continue to play for years. Because as he says on his Twitter feed, he's "Living the proverbial dream."
# # #
Rob Isbitts pitches in for Jewish Baseball News as contributing writer. The Founder and Chief Investment Strategist for Sungarden Investment Research, he manages a mutual fund and private accounts, writes an investing column for MarketWatch.com, and has written two books on investing. Rob is a happily married father of three and lives in Weston, FL. He hopes to visit as many ballparks as he and his son can.