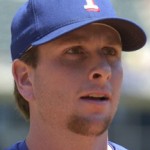 JEWISH BASEBALL NEWS — Thanks to off-season surgery on his right knee, Texas Rangers P Scott Feldman has spent the 2011 season on the disabled list. But he may be turning the corner.
On Saturday (5/14/2011), the 6-foot-6-inch starter pitched 5 strong innings for the "AA" Frisco RoughRiders in an 11-2 win over the Corpus Christi Hooks. Feldman gave up one earned run on just two hits while striking out 4 and walking 2.
According to MLB.com, the Rangers want to see Feldman pitch at least 2 more minor-league games before they decide whether he's ready to return to the majors.
By coincidence, the starting pitcher the day after Feldman's appearance was Richard Bleier, a fellow Jew. Bleier had a somewhat tougher time during his 6 innings on the mound, giving up 3 earned runs on 9 hits in a 4-3 loss to Corpus Christi.
###
Make life easier. Get Jewish Baseball News headlines automatically.

'Like' us on Facebook

Follow us on Twitter

Track us via Google Reader