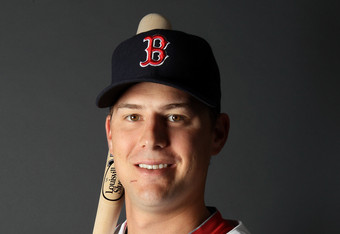 JEWISH BASEBALL NEWS — The Boston Red Sox didn't waste any time getting C Ryan Lavarnway into the lineup.
Playing DH, the 24-year-old Lavarnway went 0/4 in Thursday's 4-3 win over the Kansas City Royals, just hours after being called-up from the Pawtucket Red Sox (AAA).
He was nothing if not consistent, flying out 3 times to Royals CF Melky Cabrera and striking out once.
Meanwhile, recent Philadelphia Phillies call-up Michael Schwimer has yet to get into a game. The ace reliever stayed on the bullpen bench during Thursday's 4-1 victory over the Arizona Diamondbacks, despite it being Jewish Heritage night at Philly's Citizens Bank Park.
But according to a Philadelphia Sports Daily article helpfully provided by Jewish Baseball News reader Bill R., Schwimer had other team duties to fulfill.
He was wearing a pink Hello Kitty backpack with a matching pink boa on his back as he strolled across the field at Citizens Bank Park toward the Phillies bullpen. And Michael Schwimer was wearing it with pride.

In fact, carrying that backpack may have been the proudest moment of Schwimer's life. It meant that he had arrived in the big leagues.

"I'm going to have to lengthen the straps on it," the 6-foot-8 inch Schwimer joked…

…(The backpack is) used to house the sunflower seeds and other snacks that the relief pitchers munch on during every game. The lowest tenured rookie pitcher is made to endure the embarrassment of carrying the Hello Kitty backpack to and from the bullpen.
The Red Sox play the Royals again tonight at 8:10pm ET, while the Phillies take on the Washington Nationals at 7:05pm ET.
# # #
Planning to make a purchase at Amazon.com? Support Jewish Baseball News by using our link, below. It costs you nothing but earns us a small commission.