October 12, 2021 (Tuesday)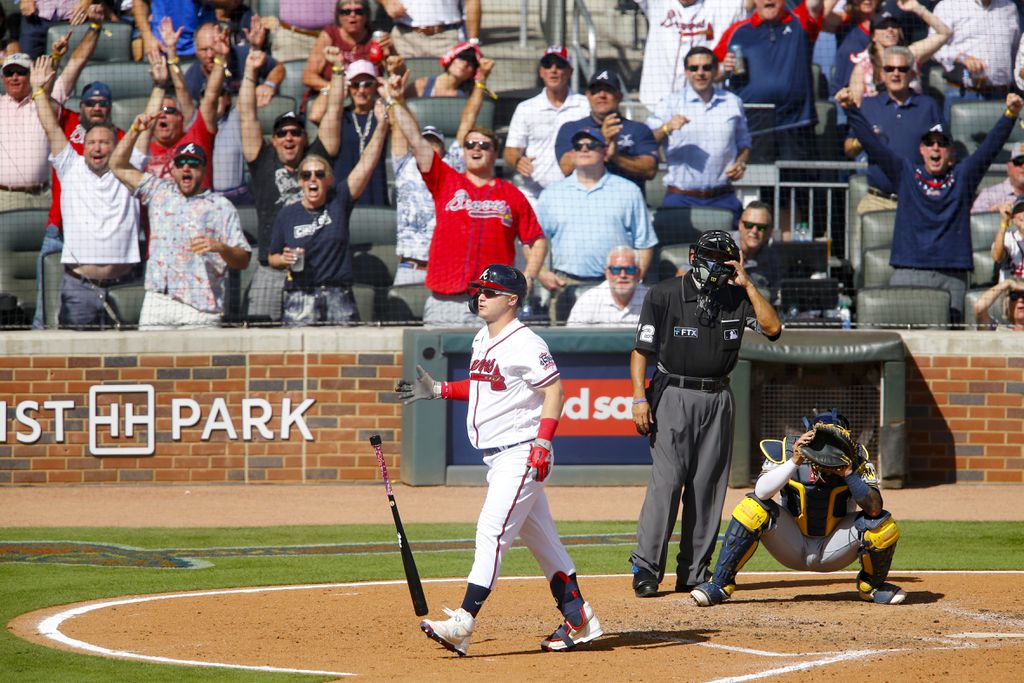 Here are your playoff stats for the six days from October 12-17, a period that includes both the A.L. and N.L. Division Series and the beginning of the leagues' Champion Series.
OF Joc Pederson (Braves)
Pederson hit only .182 (2-for-11), but his clutch HR in Game 2 of the NLCS against Los Angeles tied the score 2-2. Atlanta went on to get a walk-off win.
The chunky lefty's first season with Atlanta — the club acquired him from the Cubs in a July 2021 trade — has been no different. No longer a regular starter, Pederson has embraced his bench role with characteristic gusto and become a favorite not only with fans but also his teammates.
Pederson was nothing short of heroic in the in the first three games of Atlanta's N.L. Division Series matchup against Milwaukee. The 29-year-old went 3-for-3 as a pinch hitter with 2 HRs and 4 RBIs.
Monday's round-tripper (October 11) accounted for all three Braves runs in a 3-0 win over Milwaukee. Superlatives followed.
"He brings so much energy to our team," Braves shortstop Dansby Swanson told MLB.com after the game. "I told him the other day that no environment ever dictates who he is. He's the same guy in every situation. And I feel like that's one of the reasons why he's so successful come this time of year."
"That guy's got no heartbeat at all," Atlanta manager Brian Snitker added. "It's like he's on the playground. Playing against him in the postseason the last few years, you could tell that."
P Max Fried (Braves)
Fried, Pederson's teammate, has been no less clutch.
The lanky southpaw dominated Milwaukee in an October 9 shutout, yielding just 3 hits and no walks over 6 scoreless innings while striking out 9 batters.
Atlanta reliever Tyler Matzek called Fried "a guy that's been absolutely dominating games that we need to win."
1B Rowdy Tellez (Brewers)
Tellez hit .286 (2-for-7) against Atlanta in Milwaukee's first 3 playoffs games, including a solo home run on October 8. The 411-foot shot came off his bat at 109.3 MPH.
Earlier in the same game, Tellez led an impressive double play when he fielded a ground ball, stepped on first base for the first out, and threw home to nab Jorge Solers (Braves).
3B Alex Bregman (Astros)
Bregman hit a sizzling .455 (5-for-11) in Houston's first 3 playoff games against the White Sox, with 2 RBIs and a .500 OBP (on-base percentage).
Stats to share
Home runs by Tellez (Brewers) and Pederson (Braves) accounted for all 3 runs scored in Milwaukee's 2-1 win over Atlanta on October 8. According to author Bob Wechsler, the last time two Jewish players homered in the same playoff game came in the 9th inning of Game 4 of the 2017 World Series, when 3B Alex Bregman (Astros) and Pederson (Dodgers) both cleared the bases.
Fried (Braves) got the better of Tellez (Brewers) in his October 9 start, striking Tellez out on a called third strike and forcing him to pop out in foul territory.
# # #
For the latest information from Jewish Baseball News, follow us on Facebook, Twitter or Instagram
You also can get selected updates via e-mail