September 28, 2021 (Tuesday)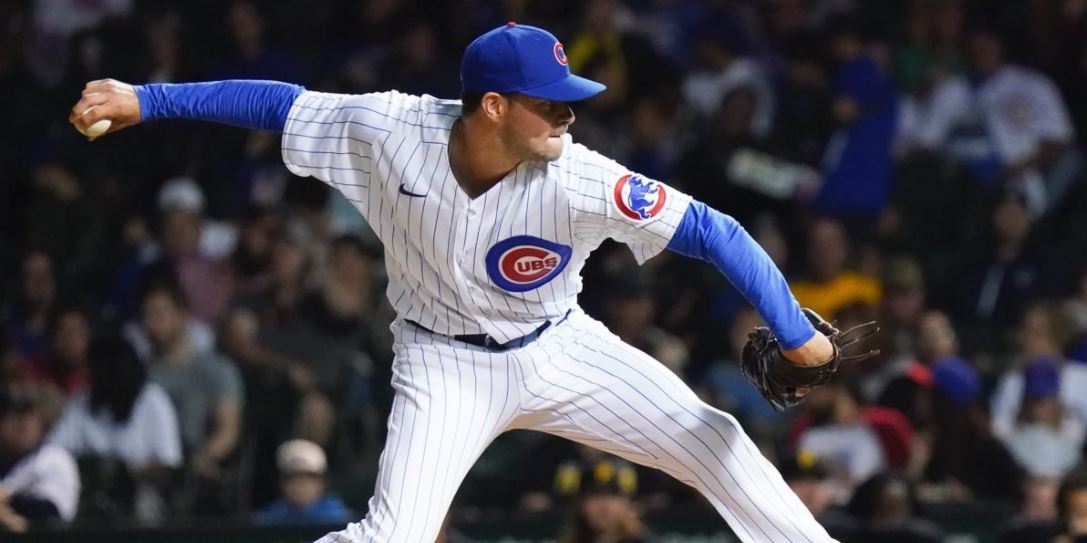 Stats to share
Max Fried (Braves) has been a different pitcher since the All-Star break. His 1.78 ERA since July 13 is tied for #2 in the Majors and a vast improvement from his 4.71 ERA before the break. Other examples of his pre-break to post-break improvement include opponent batting average (.270 to .193), on-base percentage (.338 to .238), and on-base plus slugging (.765 to .535). Meanwhile, Fried's strikeout-to walk ratio has increased from 2.88 to 5.00.
Rowdy Tellez (Brewers) is hitting .238 (5-for-21) with 2 HRs as a pinch hitter this season, versus the MLB average of .212 (1,044-for-4,936). His 6 pinch-hit RBIs are tied for 11th-best in the Majors, with all but one hitter ahead of him having more at-bats.
All 4 Jewish position players with at least 250 at-bats this season have amassed double-digit home runs: Joc Pederson (17), Kevin Pillar (15), Alex Bregman (11), and Rowdy Tellez (11).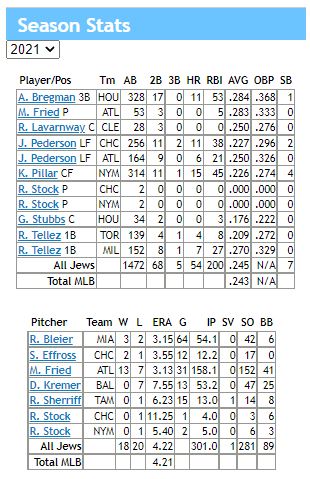 Weekly overview
Jewish batters hit a combined .233 (10-for-43) last week with 2 HRs, 2 doubles, 5 RBIs, 7 walks, 5 strikeouts, one hit-by-pitch, and a .346 OBP (on-base percentage). The performance steadied their collective batting average at .245, versus the Major League average of .243.
Jewish pitchers had a stellar week, going 1-0 with a hold and a 0.00 ERA over 15 combined innings, yielding 5 hits and 2 walks while hitting one batter and striking out 9. The performance dropped their collective ERA from 4.42 to 4.22, a hair above the Major League average of 4.21.
At the plate
On the mound
Max Fried (Braves) hurled his second straight shutout and earned his sixth consecutive win on September 24, yielding just 3 hits and no walks over 9 innings while striking out 4. It was the second time Fried tossed a complete-game shutout on fewer than 100 pitches in 2021.
Scott Effross (Cubs) was busy — and effective — in his third full week as a Major Leaguer. The sidearm pitcher threw 3.1 scoreless innings over 4 games, yielding 2 hits and no walks, striking out 4, and earning his second hold.
Richard Bleier (Marlins) tossed 1.2 shutout innings over 2 appearances, yielding no hits and 2 walks while striking out one.
Players to watch
SS Zack Gelof (Athletics/Triple-A/Las Vegas Aviators), a 2nd-round pick in the 2021 draft, made it all the way to Triple-A on September 26. In his first two games with the Aviators, Gelof went 1-for-3 with a walk, and then 3-for-4 with a bases-loaded double and 5 RBIs.
OF Jakob Goldfarb's tenure in minor-league ball was short-lived. Drafted by the White Sox in 2019, he hit .186 in rookie ball and later was released. But Goldfarb's experience with the Ogden Raptors of the independent Pioneer League this season has been a different story. In 2021, the 25-year-old law-school student hit .342 with 24 HRs (#2 in the league), 90 RBIs (#6), a .460 OBP (#3), 1.121 OPS (#6), and 45 stolen bases (#1).
Jakob Goldfarb isn't the only Jewish player in the Pioneer League to have a standout 2021. OF Matt Feinstein (Idaho Falls Chukars), who has never been drafted or signed by a Major League team, hit .366 (#10) with 22 HRs (#4), 116 RBIs (#1), a .492 OBP (#2), and 1.120 OPS (#7).
A warm welcome to P Sam Hellinger (Reds/High-A/Dayton Dragons). Selected by Seattle in the 39th round of the 2013 draft, Hellinger chose college instead, last playing at Gonzaga in 2017. Texas signed Hellinger as an undrafted free agent in 2019 and then released him in 2020. He signed with Cincinnati in 2021.
Transactions
Injured list
1B Rowdy Tellez (Brewers), right patella strain, since September 12.
P Robert Stock (Mets), right hamstring strain, since July 21. Out for the season.
# # #
For the latest information from Jewish Baseball News, follow us on Facebook, Twitter or Instagram
You also can get selected updates via e-mail