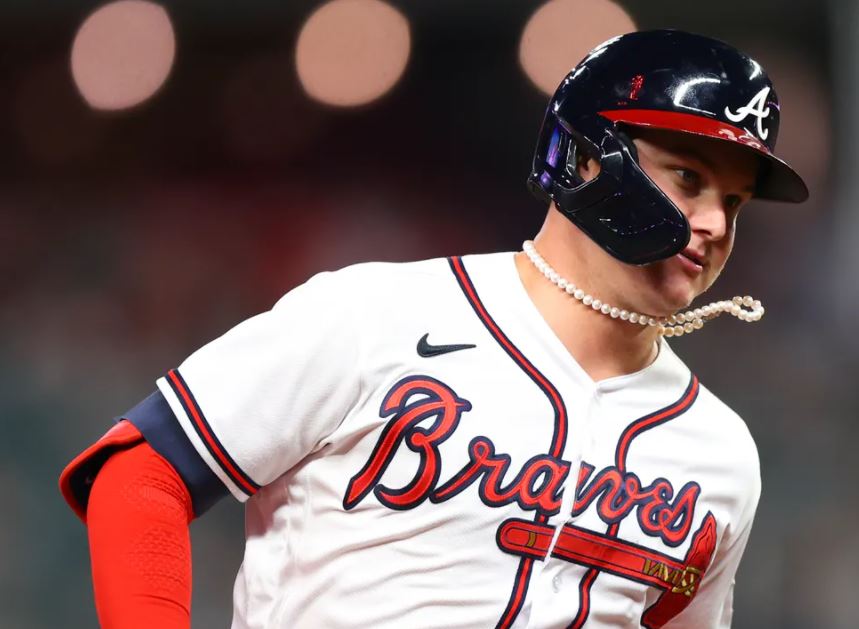 Mazel tov
Max Fried was named N.L. Pitcher of the Month for September/October, the first Brave to win the monthly honor since 2013 (see Joc Pederson (Braves) drew double-takes and cheers last week when he began wearing a pearl necklace during games, including while hitting a home run on the final day of the regular season. Pederson's easygoing nature appears to be a competitive advantage during postseason play, a time when many other players freeze at the gravity of the moment. In World Series games with the Dodgers, for example, Pederson hit .275 (11-for-40) with 5 HRs, 2 doubles, and 9 RBIs. "Joc Pederson has been described as a carefree, comical teammate who can keep a clubhouse loose," MLB.com wrote.
P Rob Kaminsky, a free agent who pitched for the Cardinals in 2020, says he is "100% healthy" and ready to play again.
Stats to share
P Max Fried (Braves) racked up some stellar stats this season:

In his final 11 starts, Fried went 7-0 with a 1.46 ERA, held opposing batters to a .183 average, and recorded 64 strikeouts against just 9 walks. In four of the games, Fried allowed no runs. Most important, Atlanta went 10-1 during the stretch.
During his final 3 starts, Fried recorded a 17.2-inning scoreless streak.
Fried's final game of the regular season, on September 29, marked his 12th consecutive quality start, a Major League high in 2021.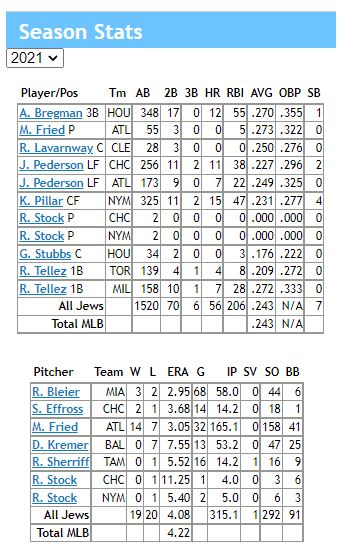 Weekly overview
In the final week of the 2021 regular season, Jewish batters hit a combined .188 (9-for-48) with 2 HRs, a triple, 2 doubles, 6 RBIs, 4 walks, 9 strikeouts, and a .250 OBP (on-base percentage). The performance trimmed their collective batting average from .245 to .243, identical to the Major League average of .243.
In the final week of the 2021 regular season, Jewish pitchers went 1-0 with 4 holds, a blown save, and a 1.32 ERA over 13.2 combined innings, yielding 8 hits and 2 walks while hitting one batter and striking out 11. The performance shrank their collective ERA from 4.22 to 4.08, better than the Major League average of 4.22.
At the plate
On the mound
Players to watch
SS Zack Gelof (Athletics/Triple-A/Las Vegas Aviators), a 2nd-round pick in the 2021 draft, hit .667 (6-for-9) with a double and 6 RBIs. Sadly, the Aviators' final 4 games of the 2021 season were cancelled due to COVID-19.
OF Hunter Bishop (Giants/Low-A/San Jose Giants) was selected to play in the prestigious Arizona Fall League. The 10th overall pick in the 2019, Bishop has seen limited play since then, including a total of just 45 at-bats for San Francisco's rookie, Low-A, and High-A teams in 2021. But the Giants must see promise in the 6'5″ lefty.
Transactions
P Dean Kremer (Orioles) was called up from Triple-A on October 5.
1B Rowdy Tellez (Brewers) was activated from the injured list on October 2.
P Ryan Sherriff (Rays) was called up from Triple-A on September and sent back down on September 30.
Injured list
P Robert Stock (Mets), right hamstring strain, since July 21. Out for the season.
# # #
For the latest information from Jewish Baseball News, follow us on Facebook, Twitter or Instagram
You also can get selected updates via e-mail