August 17, 2021 (Tuesday)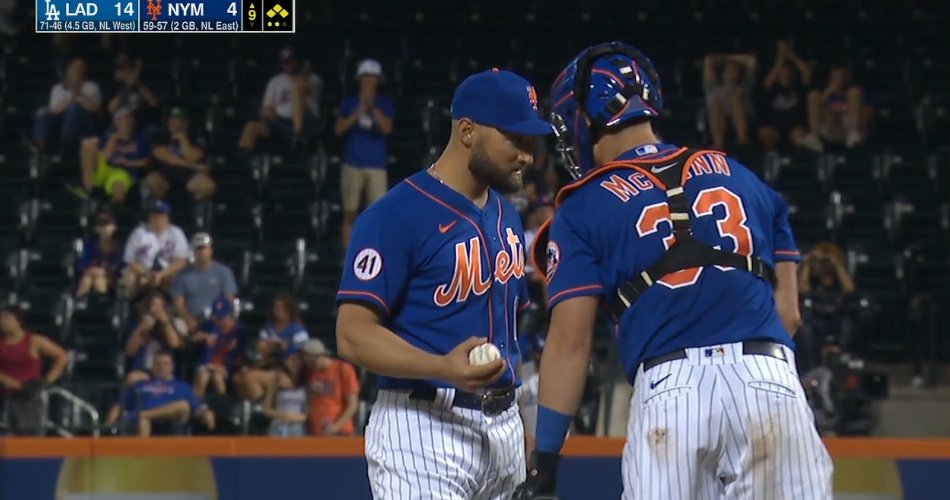 Mazel tov
Kevin Pillar (Mets) is known for his outfield prowess, but on August 15 he took the mound for the first time in his MLB career, coming on with 2 outs and the bases loaded in the 9th inning of a game against the Dodgers. Pillar went to a full count on batter Chris Taylor before retiring him on a flyout to right-center to end the rally. All six of Pillar's pitches were sliders, and he tossed them at a range of 69-84 mph.
Stats to share
Since hitting a season-high of 11.45 on April 13, P Max Fried (Braves) has steadily reduced his ERA. A one-run outing on August 14 brought it to 3.78, the lowest level since an Opening Day loss.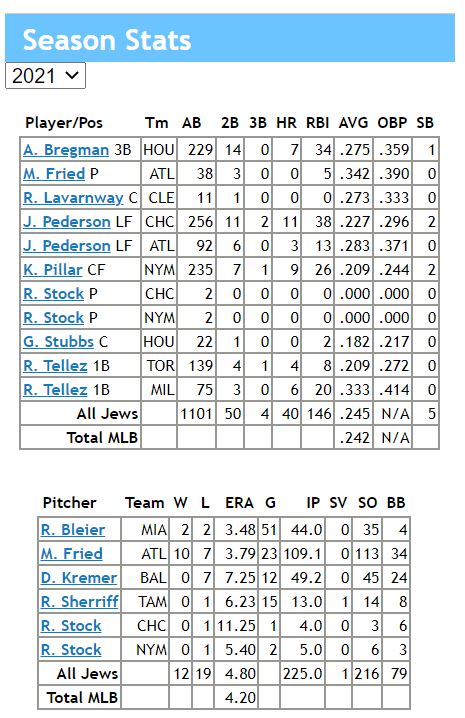 Weekly overview
Jewish batters hit a combined .286 (8-for-28) last week, with a home run, double, 3 RBIs, and a .412 OBP (on-base percentage). The performance lifted their collective batting average from .244 to .245, versus the Major League average of .242.
Jewish pitchers went 1-1 with 2 holds and a 5.06 ERA, yielding 12 hits and 4 walks over 10.2 combined innings. The performance raised their collective ERA from 4.79 to 4.80, versus the Major League average of 4.20.
At the plate
On the mound
Max Fried (Braves) earned his third consecutive victory on August 14, pitching 6 innings of one-run ball on 5 hits, 0 walks, and 7 strikeouts to improve his record to 10-7. Fried helped himself at the plate with a single and two sacrifices in 3 plate appearances.
Ryan Sherriff (Rays) recorded a 10.13 ERA over 3 appearances, yielding 2 hits, 4 walks, and a hit batter over 2.2 combined innings while striking out 3. Sherriff was optioned to Triple-A on August 16.
Richard Bleier (Marlins) went 0-1 with 2 holds and a 9.00 ERA over 3 appearances, yielding 5 hits and zero walks over 2 combined innings while striking out 3. After hitting a season low of 2.29 on July 17, Bleier's ERA has climbed to 3.48. During that time, batters have hit him for a .395 average, .452 OBP, and .926 OPS.
Players to watch
P Ben Gross (Twins/High-A/Cedar Rapids Kernels) tossed a 6-inning gem on August 11, yielding 2 earned runs on 6 hits and zero walks over 6 innings while striking out 13. For the season, the 6-foot-1-inch righty is 5-1 with a 3.25 ERA, and he ranks high among all High-A pitchers in at least two categories: #2 in strikeouts per 9 innings (11.50), and #6 in strikeout-to-walk ratio (4.60).
C Scott Manea (Astros/Double-A/Corpus Christi Hooks) continues to show great patience at the plate. His .405 OBP ranks #3 among all Double-A players, and his .75 walk-to-strikeout ratio ranks #5.
Transactions
Injured list
P Robert Stock (Mets), right hamstring strain, since July 21. Out for season.
3B Alex Bregman (Astros), left quad strain, since June 17.
# # #
For the latest information from Jewish Baseball News, follow us on Facebook, Twitter or Instagram
You also can get selected updates via e-mail