September 7, 2021 (Tuesday)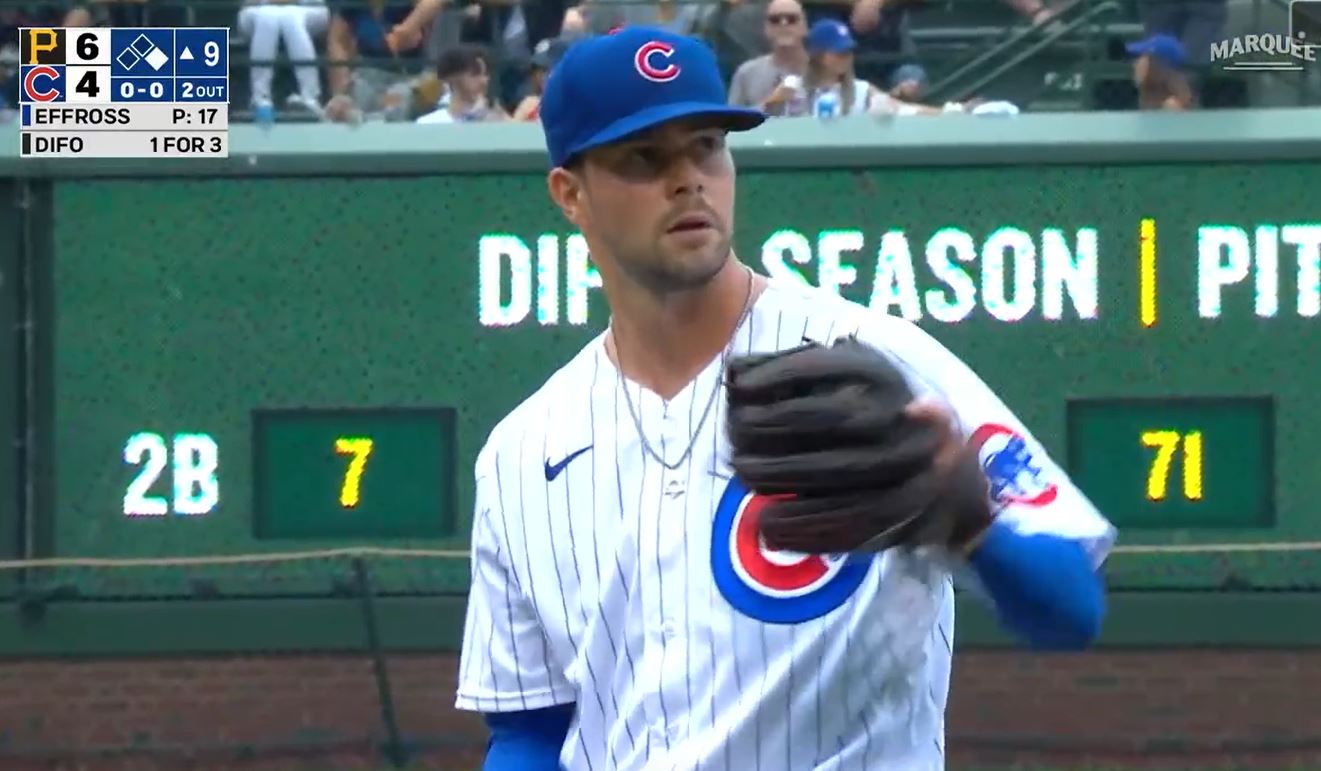 Mazel tov
C Ryan Lavarnway (Indians), who represented Team Israel in the 2021 Olympics, hit .375 with 2 doubles in 2 starts last week after being called-up from the minors. Lavarnway's only other stint with Cleveland this season was a four-game stretch in June.
After a less-than-perfect MLB debut on August 29, P Scott Effross (Cubs) rebounded like a seasoned veteran, tossing 3 near-perfect innings over 2 games and earning his first win. A recent article says the turning point in Effross' career was his decision to begin throwing sidearm.
Stats to share
At 25.1 feet per second, 1B Rowdy Tellez (Blue Jays) ranks #490 in the Majors in sprint speed. But that didn't stop the 6'4″, 255-pound infielder from hitting his second triple of the season on August 31, thanks to a favorable carom off the wall in left-centerfield. No other Jewish ballplayer has more than one triple this season.
Speaking of sprint speed, the fastest Jewish player this season is C Garrett Stubbs (Astros), whose 28.3 feet per second ranks #119 in the Majors.
CF Kevin Pillar (Mets) had 14 HRs in 268 at-bats thru September 5, making him one of only 74 MLB players averaging a HR every 20 at-bats or fewer. Pillar hit a career high 21 HRs in 2019, but that amounted to one home run every 29.1 at-bats.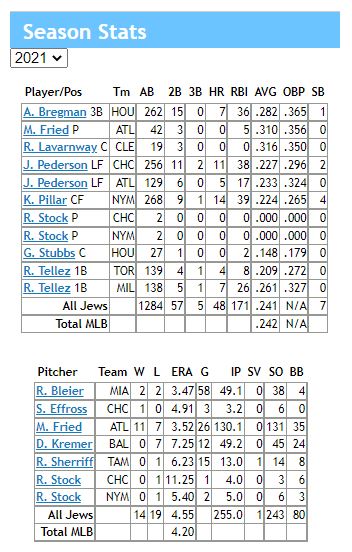 Weekly overview
Jewish batters hit a combined .250 (20-for-80) last week, with 3 HRs, one triple, 5 doubles, 2 RBIs, a stolen base, 5 walks, 15 strikeouts, and a .294 OBP (on-base percentage). The performance kept their collective batting average steady at .241, versus the Major League average of .242.
Jewish pitchers went 1-0 with one hold and a 1.69 ERA last week, yielding 4 hits and a walk over 10.2 combined innings while striking out 15. The performance lowered their collective ERA from 4.61 to 4.55, versus the Major League average of 4.20.
At the plate
On the mound
Scott Effross (Cubs) went 1-0 with a 0.00 ERA over 2 appearances, yielding one hit and zero walks over 3 combined innings while striking out 5.
Max Fried (Braves) pitched six solid innings in a September 1 defeat but was not charged with the loss. He yielded 2 earned runs on a walk and 3 hits — including 2 HRs — while tying a season high with 9 strikeouts. Fried's last loss came on July 28.
Richard Bleier (Marlins) tossed 1.2 perfect innings over 2 appearances, yielding zero hits and walks while striking out one.
Players to watch
Transactions
C Ryan Lavarnway (Indians) was called-up from the minors on September 2.
Injured list
P Robert Stock (Mets), right hamstring strain, since July 21. Out for the season.
# # #
For the latest information from Jewish Baseball News, follow us on Facebook, Twitter or Instagram
You also can get selected updates via e-mail