August 31, 2021 (Tuesday)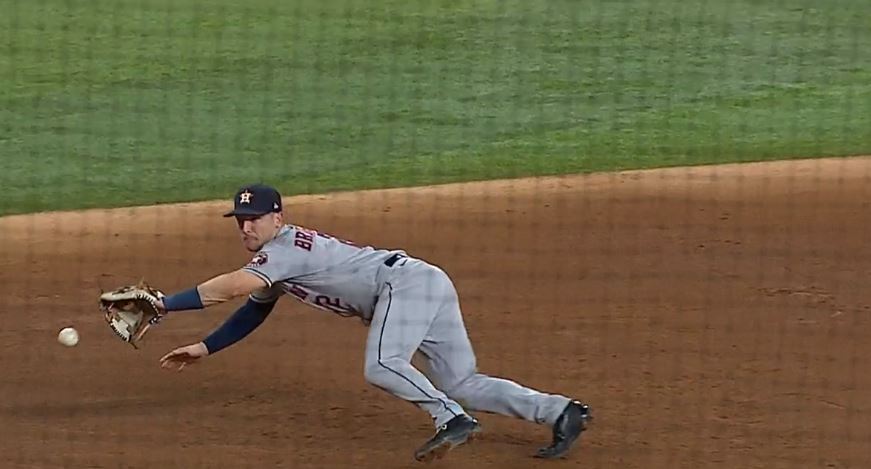 Mazel tov
P Scott Effross (Cubs) became the first Jewish player this season to make his Major League debut. After a 6-year sojourn in Chicago's farm system, the 27-year-old reliever was called up on August 28 and made his first appearance the following day. It probably wasn't the most satisfying experience; Effross hit a batter, threw a wild pitch, and gave up a 2-run HR over 0.2 innings. But he hardly stood out among a Cubs pitching staff that gave up 13 runs that day. And Effross did record his first MLB strikeout, making 2B Cesar Hernandez (White Sox) swing and miss on a 90.8-mph sinker.
3B Alex Bregman (Astros) returned to play after two months on the injured list.
Stats to share
So far this season, Jewish batters are striking out less often than Major League batters overall (20.1% of all plate appearances versus 23.4%). But they are walking slightly less often, too (7.7% versus 8.7%).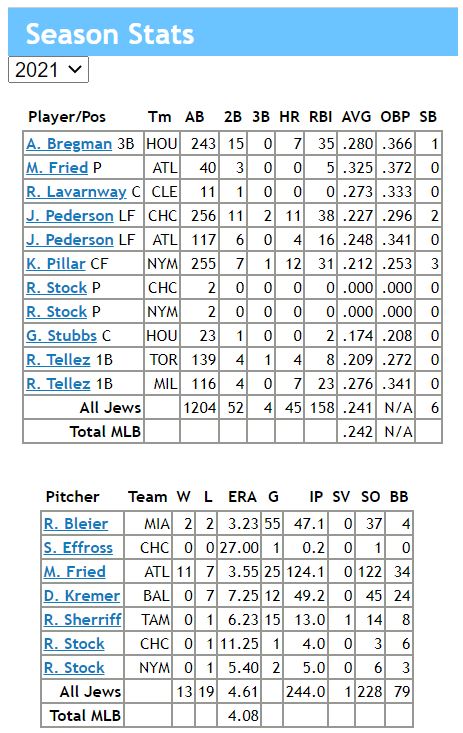 Weekly overview
Jewish batters hit a combined .241 (14-for-58) last week, with 3 HRs, a double, 7 RBIs, a stolen base, 6 walks, 17 strikeouts, and a .338 OBP (on-base percentage). The performance kept their collective batting average steady at .241, versus the Major League average of .242.
Jewish pitchers went 0-0 with one hold and a 5.00 ERA last week, yielding 8 hits, zero walks, and 3 hit batters over 9 combined innings while striking out 8. The performance raised their collective ERA from 4.60 to 4.61, versus the Major League average of 4.08.
At the plate
On the mound
Max Fried (Braves) pitched six innings in an August 27 win but did not end up with the decision. He yielded 3 earned runs on 5 hits, zero walks, and a hit batter over 6 innings while striking out 5. Fried had won all four of his previous outings.
Richard Bleier (Marlins) earned a hold and maintained a 0.00 ERA over three appearances. In 2.1 combined innings, he yielded 2 hits and zero walks while hitting one batter and striking out 2.
Scott Effross (Cubs) tossed 0.2 innings of relief on August 29, yielding 2 earned runs on a hit, zero walks, and a strikeout.
Players to watch
Transactions
C Garrett Stubbs (Astros) was called-up from the minors on August 29.
P Scott Effross (Cubs) was called-up from the minors on August 28.
3B Alex Bregman (Astros) came off the injured list on August 25.
Injured list
P Robert Stock (Mets), right hamstring strain, since July 21. Out for the season.
# # #
For the latest information from Jewish Baseball News, follow us on Facebook, Twitter or Instagram
You also can get selected updates via e-mail