August 10, 2021 (Tuesday)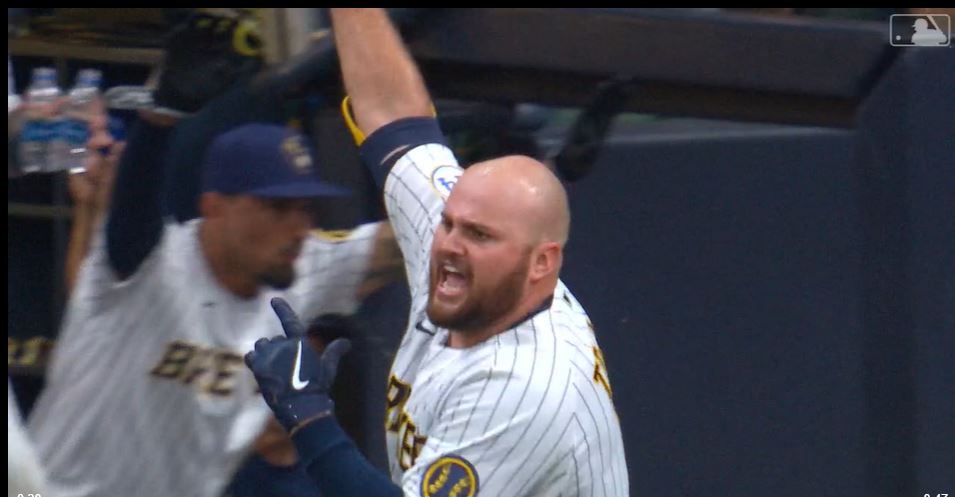 Mazel tov
August 4 was a great day for Jewish pinch-hitters. Rowdy Tellez (Brewers) hit a 3-run home run in the 7th inning of an afternoon game to erase a 2-1 deficit and seal a 4-2 win over the Pirates. Later that night, Joc Pederson hit a 2-run double to pad Atlanta's lead in a 7-4 win over the Cardinals.
Ryan Sherriff (Rays) pitched a perfect 9th inning on August 4 to earn the second save of his career. Sherriff retired the side on just 8 pitches and preserved a 4-3 win for the 1st-place Rays.
Stats to share
P Max Fried (Braves) is hitting .324 (12-for-37) this season — including a remarkable 3-for-5 as a pinch-hitter — and is leagues ahead of the #2 pitcher, Luis Castillo (Reds), who is hitting .206. Fried's .780 OPS (on-base plus slugging) also dwarfs the competition.
P Ryan Sherriff (Rays) has pitched just 10.1 innings this season — admittedly, not a huge sample size — but the difference in his performance at home versus away is pronounced. In 4 away innings, opposing batters have hit .429 against Sherriff. At home in St. Petersburg, the southpaw has tossed 6.1 scoreless innings and held opposing hitters to a paltry .095 average.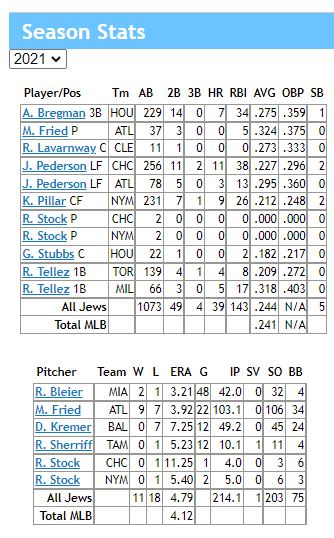 Weekly overview
Jewish batters hit a combined .278 (15-for-54) last week, with 2 HRs, 3 doubles, 9 RBIs, and a .361 OBP (on-base percentage). The performance lifted their collective batting average from .242 to .244, versus the Major League average of .241.
Jewish pitchers had a strong week, going a combined 2-0 with a save, a hold, and a 1.06 ERA. The trio yielded 16 hits and 3 walks over 17 innings while striking out 17. The performance chopped their collective ERA from 5.11 to 4.79, versus the Major League average of 4.12.
At the plate
On the mound
Max Fried (Braves) won twice last week, yielding just one earned run over 12 combined innings on 11 hits, 2 walks, and 12 strikeouts.
Ryan Sherriff (Rays) recorded a 3.00 ERA and earned a save over 3 appearances, yielding 2 hits and zero walks over 3 combined innings while striking out 4 and holding opposing batters to a .154 batting average.
Richard Bleier (Marlins) tossed 2 scoreless innings and earned a hold over 3 appearances, yielding 3 hits and a walk while striking out one.
Players to watch
An undrafted free agent signed out of college by the New York Mets in 2016, C Scott Manea (Astros/Double-A/Corpus Christi Hooks) is enjoying a breakout season. After going a combined 7-for-9 on August 6 and 7, the Massachusetts native is hitting .285 with 8 HRs, 34 RBIs, an impressive .390 OBP, and a .851 OPS. Behind the plate, Manea has a .992 fielding percentage and has thrown out 29% of attempted base-stealers.
P Scott Effross (Cubs/Triple-A/Iowa Cubs) tossed 4 scoreless innings over 3 appearances last week and earned his first save since 2018, yielding a combined 2 hits and one walk while striking out 3. In 34.2 innings at the Triple-A level this season, Effross has struck out 39 batters and yielded a mere 0.95 walks/hits per inning.
SS Shawn Goosenberg (White Sox/Rookie/ACL White Sox), who was chosen in the next-to-last round of the 2021 amateur draft, homered and drew a walk in his pro debut August 5.
Injured list
P Robert Stock (Mets), right hamstring strain, since July 21. Out for season.
3B Alex Bregman (Astros), left quad strain, since June 17.
# # #
For the latest information from Jewish Baseball News, follow us on Facebook, Twitter or Instagram
You also can get selected updates via e-mail