Here are your MLB highlights for the week of May 31-June 6, 2021:
Mazel Tov
In a characteristic show of grit and determination, CF Kevin Pillar (Mets) returned to action just 14 days after being hit in the face by a 95mph fastball on May 17, an at-bat that broke bones and required corrective surgery. The "fearless" outfielder — dubbed Superman for his diving catches — stroked a single in his first at-bat.
P Ryan Sherriff was recalled by the Rays on June 4 and hurled an 8-pitch, perfect inning the same day. The return marked a triumph over mental-health issues Sherriff suffered earlier in the season. "I think I'm going to have to deal with this for the rest of my life," he told reporters. "But I'm glad that I have a great foundation where to start from." Click here to see an interview.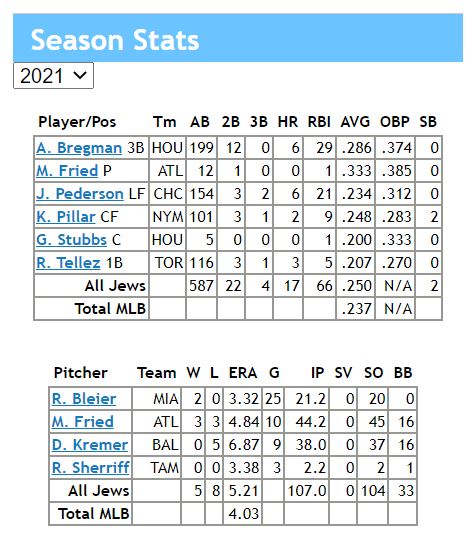 Weekly overview
Jewish batters hit a combined .179 (15-for-84) last week, with 2 HRs, 4 doubles, 7 RBIs, and a .233 on-base percentage (OBP). For the season, they are batting .250, versus the Major League average of .237.
Jewish pitchers went a combined 1-1 with 2 holds and a 3.57 ERA over 13 combined innings last week, fanning 13 batters while walking 3. The performance lowered their collective ERA from 5.42 to 5.21, versus the Major League average of 4.03.
On the mound
Max Fried (Braves) had a very up-and-down week. In a June 1 loss to the Nationals, he yielded an uncharacteristic 4 earned runs over 3.2 innings, giving up 6 hits and 2 walks while striking out 7. But Fried bounced back with a vengeance in a June 6 win against the Dodgers, pitching 6 innings of one-run ball on 6 hits, zero walks, and 4 strikeouts. The win was especially sweet because it came against 2020 Cy Young winner Trevor Bauer, the same year Fried finished 5th in the voting.
Richard Bleier (Marlins) went 0-0 with a 0.00 ERA and two holds over 3 appearances, yielding one hit and zero walks over 2 combined innings while striking out 2.
P Ryan Sherriff (Rays) went 0-0 with a 0.00 ERA over 2 appearances, yielding 3 hits and a walk over 2.1 combined innings while striking out 2.
At the plate
Players to watch
P Dean Kremer (Orioles/AAA/Norfolk Tides) pitched well in his first start down at Triple-A, yielding one earned run over 4 innings on 2 hits, 2 walks, and 7 strikeouts.
Transactions
# # #
For the latest information from Jewish Baseball News, follow us on Facebook, Twitter or Instagram
You also can get selected updates via e-mail