Here are your MLB highlights for the week of May 3-9, 2021:
Stats to share
Last week was by far the strongest of the season for Jewish players:

Jewish hitters stroked a combined .346 (28-for-81) with 3 HRs, 5 doubles, 12 RBIs, and a .379 on-base percentage. The performance brought their collective season batting average to .249, well above the Major League average of .234.
Jewish pitchers went a combined 1-1 with a 2.84 ERA, fanning 18 batters while walking just 4. The encouraging week shrank their somewhat bloated collective ERA to 6.55, versus the Major League average of 4.02.
At the plate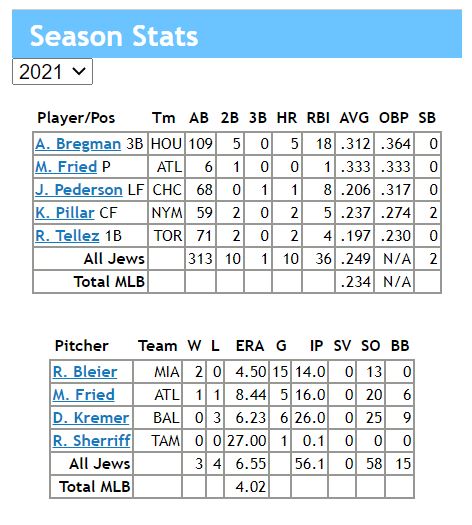 On the mound
Back from the injured list, Max Fried (Braves) had his finest outing of the season, yielding one earned run over 5 innings on 4 hits, a walk, and 6 strikeouts to earn the win. The career .182 hitter — quite good for a pitcher — also had a pinch-hit sacrifice bunt on May 8.
In 3 appearances that lasted one inning each, Richard Bleier (Marlins) went 1-0 with a 3.00 ERA, yielding 2 hits and no walks while striking out 5. The highlight came on May 4, when Bleier entered the game in the 8th inning with the bases loaded with no outs. He proceeded to strike out the side on 13 pitches and earned his second win of the season.
Dean Kremer (Orioles) went 0-1 in two strong starts, yielding a combined 4 earned runs over 11 innings on 7 hits, 3 walks, and 7 strikeouts (see video). Two of the four earned runs he was charged with were allowed by a replacement pitcher who had inherited Kremer's baserunners.
Transactions
1B Rowdy Tellez (Blue Jays) was recalled from Triple-A on May 7.
P Max Fried (Braves) came off the injured list on May 5.
OF Joc Pederson (Cubs) came off the injured list on May 3.
Other updates
P Ryan Sherriff (Rays), who was on Tampa Bay's opening-day roster this season, held opposing teams scoreless across 3 relief appearances for the Durham Bulls (Triple-A) last week. Sherriff yielded one hit and 3 walks while striking out 4.
C Garrett Stubbs (Rays), who had a brief call up with the Astros earlier this season, hit .167 (1-for-6) for the Sugar Land Skeeters (Triple-A) last week, stroking a double and recording a .444 OBP, thanks to 3 walks.
# # #
For the latest information from Jewish Baseball News, follow us on Facebook, Twitter or Instagram
You also can get selected updates via e-mail