Here are your MLB highlights for the week of May 24-30, 2021:
Mazel Tov
C Garrett Stubbs (Astros) was called up from Triple-A on May 28 after Houston C Jason Castro was placed on the injured list. Since a brief call-up earlier this season — he saw action only once, as a pinch runner — Stubbs has hit .333 (9-for-27) for the Sugar Land Skeeters (AAA), with 3 doubles, 7 RBIs, a stolen base, and a .471 on-base percentage.
Stats to share
P Richard Bleier (Orioles) is doing something special this season: through 19.2 innings of relief, he hasn't walked a single batter. No other Major League player has come to close to recording that many walk-less frames in 2021. Meanwhile, Bleier has tallied 18 strikeouts.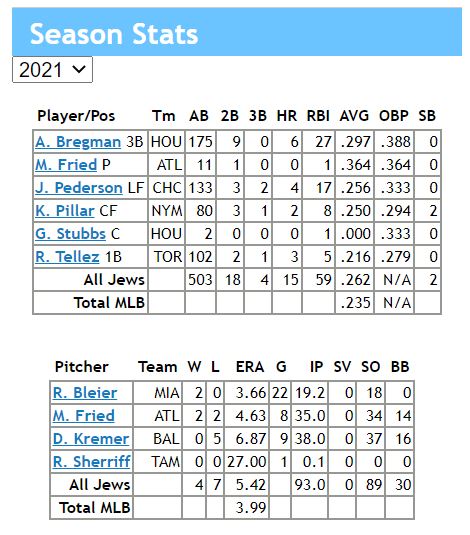 Weekly overview
Jewish batters hit a combined .259 (14-for-54) last week, with 4 HRs, a triple, 2 walks, 10 RBIs, and a .385 on-base percentage. For the season, they are batting .262, versus the Major League average of .235.
Jewish pitchers went a combined 0-1 with an 8.82 ERA over 5 innings last week, fanning 6 batters and walking 3. The performance raised their collective ERA to 5.42, versus the Major League average of 3.99.
At the plate
On the mound
Richard Bleier (Marlins) went 0-for-0 with a 0.00 ERA over 2 appearances, tossing a total of 1.1 perfect innings while striking out one. Bleier needed just 15 pitches to retire the four batters he faced.
Dean Kremer (Orioles) saw his 2021 record fall to 0-5 with a May 25 loss, yielding 5 earned runs over 4 innings on 6 hits, 3 walks, and 5 strikeouts. The sophomore starter was optioned to Baltimore's Triple-A team the following day.
Max Fried (Braves) did not pitch. He was supposed to take the mound on May 30, but poor weather scrubbed the game.
Transactions
Injured list
# # #
For the latest information from Jewish Baseball News, follow us on Facebook, Twitter or Instagram
You also can get selected updates via e-mail