Here are your MLB highlights for the week of May 17-23, 2021:
Mazel Tov
Two players with Major League experience signed minor-league contracts with the Seattle Mariners last week: Team Israel's Ty Kelly, a retired infielder seeking to brush-up his skills in preparation for the 2021 Olympics, and pitcher Zack Weiss. Both men made their Tacoma Rainiers (AAA) debut on May 23, with Kelly driving in a run and Weiss tossing a scoreless inning to earn a save. Kelly and Weiss are joined on Tacoma's roster by hot prospect Sam Delaplane, who is recovering from Tommy John surgery.
Big Scare
Kevin Pillar (Mets) was struck in the face with a 95mph fastball on May 17, causing multiple nasal fractures that required surgery. True to form, the fearless center-fielder returned to the park a day later and asked if he was in the starting lineup. "My face will heal, but my heart's broken right now because this team is hurting," Pillar said. "I was gifted an opportunity to play every day, and I can't do that and it hurts." The incident occurred shortly after opposing pitcher Max Fried (Braves) left the game with a minor injury. According to this article, pitch-induced injuries are a growing concern in baseball, given simultaneous increases in high-velocity pitching and the number of hit batters.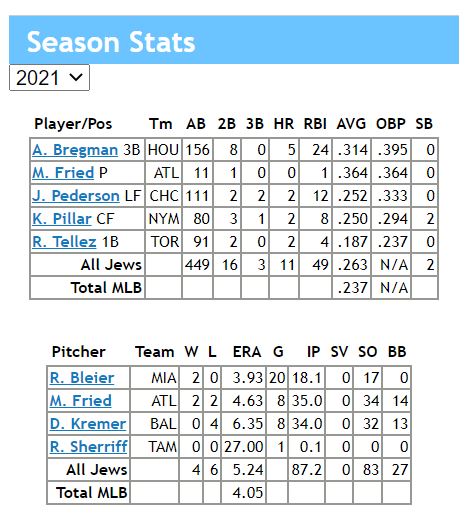 Weekly overview
Jewish batters hit a combined .283 (15-for-53) last week, with a home run, 3 doubles, 6 RBIs, and a .409 on-base percentage. The performance raised their season batting average to .263, versus the Major League average of .237.
Jewish pitchers went a combined 1-2 with a 3.64 ERA over 17 innings last week, fanning 15 batters, walking 9, and earning both a 'hold' and a blown save. The trio lowered their collective ERA from 5.68 to 5.24, versus the Major League average of 4.05.
Stats to share
In April, P Max Fried (Braves) went 0-1 with an 11.45 ERA, while 48.4% of all batters he faced reached base. May has been a different story. So far this month, Fried is 2-1 with a 1.50 ERA, and only 26.4% of batters have reached base.
Among A.L. batters, 3B Alex Bregman (Astros) ranks 3rd in intentional walks (3) and 9th both in batting average (.314) and on-base percentage (.395).
At the plate
On the mound
Max Fried (Braves) went 1-1 with a 1.38 ERA in two starts last week, striking out 10 batters over a combined 13 innings and holding opposing batters to a .269 on-base percentage. In doing so, Fried reduced his ERA from 6.55 to 4.63. Meanwhile, Fried is hitting .364 this season (4-for-11), with a double and an RBI.
Dean Kremer (Orioles) struggled in a May 20 loss, yielding 4 earned runs on 5 hits and 4 walks over 3 innings while striking out 3. The second-year starter is 0-4 this season and has yielded 10 HRs, tied for 7th-highest in the Majors.
Richard Bleier (Marlins) went 0-for-0 with a 4.50 ERA over 3 appearances, yielding 3 hits and zero walks over a combined 2 innings, striking out 2, and earning both a 'hold' and a blown save.
Other updates
C Ryan Lavarnway (Cleveland), who has played for 7 Major League franchises since 2011, is hitting .304 (14-for-46) this season fpr the Columbus Clippers (AAA), including 5 HRs and a team-leading 15 RBIs.
C Garrett Stubbs (Rays), who had a brief call up with the Astros earlier this season, is hitting .381 (8-for-21) for the Sugar Land Skeeters (Triple-A), with 3 doubles and 5 walks.
Team Israel merchandise
Israel will compete for a baseball medal in the 2021 Summer Olympics. You can join in with branded sneakers ($360), pins ($18), and many other items.
Transactions
CF Kevin Pillar (Mets) was placed on the injured list on May 18.
Injured list
# # #
For the latest information from Jewish Baseball News, follow us on Facebook, Twitter or Instagram
You also can get selected updates via e-mail