Here are your MLB highlights for the week of June 7-13, 2021:
Stats to share
Richard Bleier's walkless streak ended on June 8 when the second batter he faced drew a base on balls. Until that time, the Marlins reliever had faced 83 batters over 22 innings this season, struck out 20 of them, and not yielded a single Ball Four.
C Garrett Stubbs (Astros) has mostly been platooned in his brief MLB career. But in 2 of the 5 games in which he's had at least 4 at-bats, Stubbs has gotten 2 hits, including a 2-for-5 performance on June 13.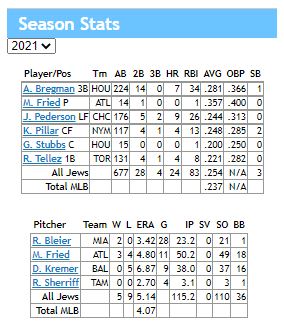 Weekly overview
Jewish batters hit a combined .278 (25-for-90) last week, with a season-high 7 HRs, 6 doubles, 17 RBIs, and a .309 on-base percentage (OBP). The performance raised their collective batting average from .250 to .254, versus the Major League average of .237.
Jewish pitchers went a combined 0-1 with 2 holds and a 4.80 ERA over 7.5 combined innings last week, fanning 6 batters while walking 3. The performance lowered their collective ERA from 5.21 to 5.14, versus the Major League average of 4.07.
On the mound
Max Fried (Braves) saw his record fall to 3-4 in a June 12 loss, yielding 3 earned runs on 5 hits and 2 walks over 6 innings while striking out 2. He did execute a slick pick-off play at first base.
Richard Bleier (Marlins) went 0-0 with a 4.50 ERA and two holds over 3 appearances, yielding one earned run on 2 hits and a walk over 2 combined innings while striking out one. One of Bleier's two holds came in a June 12 win over Max Fried and the Braves.
P Ryan Sherriff (Rays) pitched 0.2 scoreless innings on June 9 but yielded a sacrifice fly. He was optioned to Triple-A on June 12.
At the plate
Players to watch
P Jake Fishman (Marlins/AAA/Jacksonville Jumbo Shrimp) is 1-1 with a 2.95 ERA this season. In 18.1 innings, Fishman — a 30th-round pick in the 2016 amateur draft — has struck out 21 batters, walked only 5, and limited opposing teams to just 0.982 walks/hits per inning.
Transactions
# # #
For the latest information from Jewish Baseball News, follow us on Facebook, Twitter or Instagram
You also can get selected updates via e-mail