Here are your MLB highlights for the week of June 28-July 4, 2021:
Mazel tov
P Max Fried (Braves) is best known for his work on the mound, having finished 5th in voting for the 2020 Cy Young Award (National League). But Fried also is hitting .300 this season, and he showed his prowess at the plate in a July 4 contest against the Marlins. With the score tied 7-7 in the 10th inning and Atlanta's bench depleted, Braves manager Brian Snitzker called pinch-hitter Fried to the on-deck circle. Marlins P Anthony Bass intentionally walked Kevan Smith to get to Fried, who responded with a game-winning line drive to center field and promptly was mobbed by teammates (see below). "I love hitting," Fried said afterward. "So to have something like this happen and get put in a spot like that, I just tried to make the most of it."
Team Israel disclosed its 24-man Olympic roster on July 5. It has until July 27 to make injury-related additions and subtractions.
Stats to share
Richard Bleier has 11 holds this season, tying him for 5th-highest in the National league.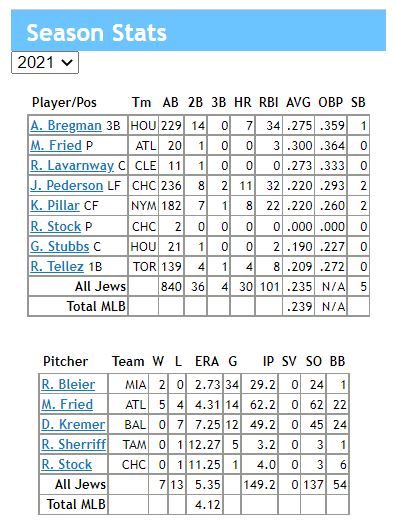 Weekly overview
Jewish batters hit a combined .122 (6-for-49) with a double, 3 RBIs, 7 walks, 14 strikeouts, a stolen base, and a .232 OBP (on-base percentage). The performance lowered their collective batting average from .241 to .235, versus the Major League average of .239.
Jewish pitchers went a combined 1-1 with 2 holds and a 6.67 ERA last week, walking 2 batters while striking out 8 over 8.1 innings. The performance raised their collective ERA from 5.29 to 5.35, versus the Major League average of 4.12.
On the mound
Despite a leadoff double in the 1st inning by Kevin Pillar (Mets), Max Fried (Braves) was on the right side of a lopsided 20-2 win on June 30, improving his record to 5-4. Over 5 innings, he gave up 2 earned runs on 3 hits and 2 walks while striking out 7. As usual this season, Fried struggled in the early going, yielding both earned runs in the 1st inning, but he settled down afterward. The 27-year-old southpaw has won three of his past four starts.
Richard Bleier (Marlins) pitched three straight days from July 2-4, earning holds on two of them. He had a perfect ERA of 0.00, yielding 2 hits and no walks over 3 combined innings while striking out one and holding opposing batters to a .222 OBP.
Ryan Sherriff (Rays) got hammered in a June 30 loss, yielding 4 earned runs on 3 hits and a hit batter over 0.1 innings. In his prior 4 games this season, Sherriff assembled a 2.70 ERA but was hit at a .357 pace by opposing batters.
At the plate
Players to watch
Transactions
Injured list
3B Alex Bregman (Astros), left quad strain, since June 17. He is expected to remain on the list until sometime after the All-Star Game, which takes place July 13.
# # #
For the latest information from Jewish Baseball News, follow us on Facebook, Twitter or Instagram
You also can get selected updates via e-mail