Here are your MLB highlights for the week of June 21-27, 2021:
Mazel tov
The Dodgers surprised Champ Pederson, older brother of LF Joc Pederson, with a World Series ring.
Israel, one of six baseball teams competing in the 2021 Summer Olympics, will begin by facing South Korea on June 29.
Stats to share
P Max Fried (Braves) may have headed to the injured list on June 19, but he left on a high note. According to Talking Chop: "After a rough start to the season, Fried has been Atlanta's most consistent starter. Since returning from the injured list on May 5, Fried has allowed three runs or less in seven of eight starts."
C Ryan Lavarnway (Indians) has never pitched once as a pro, not even in the minors. But on June 18, Cleveland nearly called him to the mound in the 8th inning.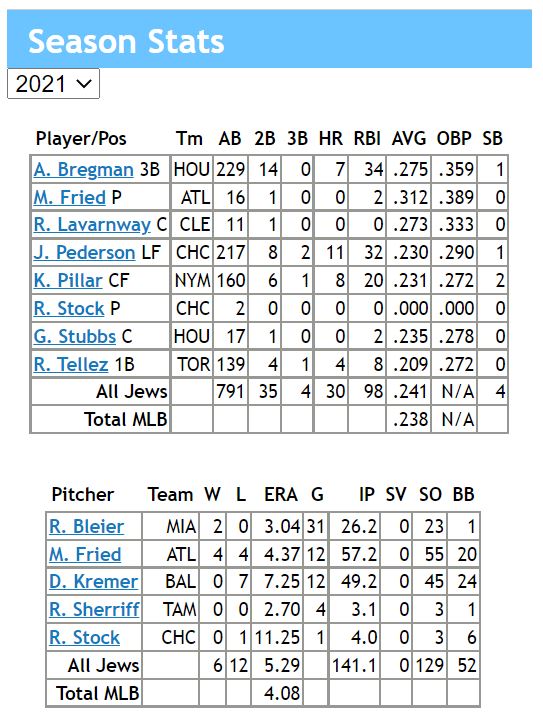 Weekly overview
Last week was momentous for Jewish players, but not in a good way. Three were optioned to their team's Triple-A club, two were designated for assignment, and stars Max Fried (Braves) and Alex Bregman (Astros) lingered on the injured list. On the bright side, one of the players designated for assignment — Cubs P Robert Stock — was grabbed off waivers by the Mets.
Jewish batters hit a combined .170 (8-for-47) last week, with 2 HRs, 4 doubles, 5 RBIs, one hit-by-pitch, a stolen base, and a .200 on-base percentage. As a group, the players struck out 15 times and walked just once. The performance lowered their collective batting average from .246 to .241, versus the Major League average of .238.
Jewish pitchers went a combined 0-1 with a 49.09 ERA last week, thanks to a June 24 meltdown by Dean Kremer. The performance raised their collective ERA from 4.95 to 5.29, versus the Major League average of 4.08.
On the mound
At the plate
Players to watch
C Ryan Gold (Blue Jays/High-A/Vancouver Canadians) hit .353 (6-for-17) last week, with 3 doubles, 4 RBIs, and 5 walks.
C Scott Manea (Astros) hit .357 (5-for-14) with 2 HRs, 3 doubles, and 6 walks. Manea is one of three Jewish catchers in Houston's minor-league system, joining Garrett Stubbs and brother CJ Stubbs.
P Noah Davis (Reds/High-A/Dayton Dragons) earned his second straight win June 22, tossing 6 scoreless innings on 2 hits, 2 walks, and 6 strikeouts.
P Ryan Sherriff (Rays/Triple-A/Durham Bulls) was perfect in 3 appearances, yielding no hits or walks over 2.1 combined innings while striking out 4.
Transactions
Injured list
P Max Fried (Braves), blister on left index finger, since June 19.
3B Alex Bregman (Astros), left quad strain, since June 17.
# # #
For the latest information from Jewish Baseball News, follow us on Facebook, Twitter or Instagram
You also can get selected updates via e-mail