Here are your MLB highlights for the week of June 14-20, 2021:
Mazel tov
C Ryan Lavarnway (Indians) was called-up from the minors on June 17. That same night, the veteran — playing for the first time as an Indian — singled in his first at-bat and went 2-for-4.
OF Kevin Pillar (Mets) gave one of the most extensive interviews of his MLB career in a June 19 Q&A with the New York Post. Pillar touched on multiple topics, including being dubbed "Superman" for his outfield heroics, becoming a fan favorite in his first season in New York, taking a 94.5 mph fastball to the face earlier this season, his love for his teammates, and his concern about rising anti-Semitism.
Stats to share
LF Joc Pederson's 2-homer game on June 18 was the 17th of his career. The left fielder has 11 HRs this season, tied for #3 on the Cubs' roster behind Javier Baez and Kris Bryant.
CF Kevin Pillar (Mets) has played all three outfield positions this season — 31 games in center field, 15 in left, and 7 in right — and has yet to make a single error.
P Max Fried (Braves) has struggled against right-handers on the road this season, yielding a .400 average. The southpaw has had much greater luck facing right-handed batters at home, where he has held them to a .209 average.
Weekly overview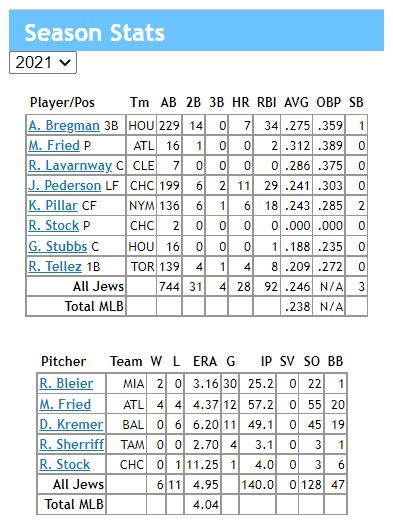 Jewish batters had their worst week of the season, hitting a combined .155 (11-for-71) with 4 HRs, 3 doubles, 10 RBIs, and a .218 on-base percentage. The dismal performance lowered their collective batting average from .254 to .246, versus the Major League average of .238.
Jewish pitchers went a combined 1-2 with a 4.11 ERA over 24 combined innings last week, fanning 18 batters while walking 11. The performance lowered their collective ERA from 5.14 to 4.95, versus the Major League average of 4.04.
On the mound
At the plate
Players to watch
Transactions
# # #
For the latest information from Jewish Baseball News, follow us on Facebook, Twitter or Instagram
You also can get selected updates via e-mail