Here are your MLB highlights for the week of July 5-11, 2021:
Mazel tov
Three Jewish players — including two making their debuts with a new team — faced off in a July 7 matchup between the Mets and the Brewers. There were several interactions. A first-inning single by 1B Rowdy Tellez (Brewers) against starter Robert Stock (Mets) marked Tellez's first hit as a Brewer and Stock's first hit yielded as a Met (see video below). Later, Stock retired Tellez on an acrobatic catch by LF Dominic Smith. Meanwhile, Tellez recorded two putouts on CF Kevin Pillar (Mets). Stock, who got zero run support from his fellow Mets, was tagged with the loss after yielding 2 earned runs over 4 innings and striking out 5.
In case you missed it, long-time fan Gwen Goldman, 70, tossed the ceremonial first pitch at Yankee Stadium on June 28. Sixty years ago, Goldman had asked to be a Yankees bat girl but was told girls "did not belong in the dugout."
Stats to share
Richard Bleier's ERA has steadily improved over the course of the season. After recording a 4.91 ERA in March/April, the 34-year-old southpaw tossed a 2.08 ERA in May, a 1.29 in June, and 0.00 through his first six appearances in July. For the season, he is 2-0 with 11 holds, a 2.43 ERA, 27 strikeouts, and 2 walks. Bleier has yielded just 0.84 walks/hits per inning, ranking him #15 in the Major Leagues among pitchers with 30-plus innings pitched.
Like the Dodgers before them, the Cubs have been platooning newcomer Joc Pederson, based on the theory that he doesn't perform well against left-handed pitching. But so far this season, Pederson has been hitting better against southpaws (.271 in 59 at-bats) than against right-handers (.218 in 197 at-bats). Meanwhile, Pederson may be batting only .230, but Baseball Reference says he is hitting .333 in so-called high leverage situations, with 2 HRs, 3 doubles, and 19 RBIs in 42 at-bats.
P Max Fried (Braves) wasn't stellar in a July 10 win over the Marlins, but his stats — 3 earned runs on 9 hits and a walk over 5 innings — weren't as bad as they might appear. With one out in the bottom of the 5th inning, Braves LF Ronald Acuna Jr. landed awkwardly after leaping for a fly ball, allowing batter Jazz Chisholm to record an inside-the-park home run. Afterward, Fried loaded the bases on three singles before retiring the side with his second and third strikeouts of the inning.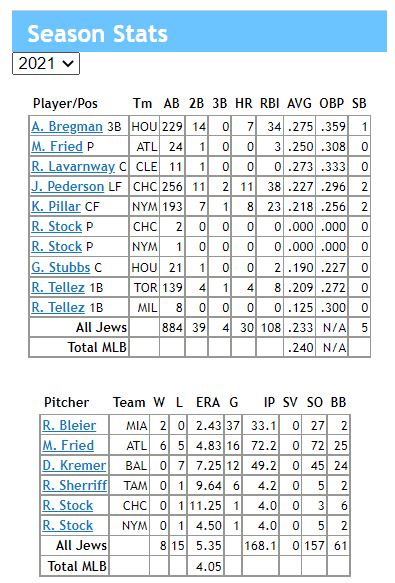 Weekly overview
Jewish batters hit a combined .205 (9-for-44) last week with 3 doubles, 7 RBIs, 2 walks, 3 strikeouts, and a .255 OBP (on-base percentage). The performance lowered their collective batting average from .235 to .233, versus the Major League average of .240.
Jewish pitchers went a combined 1-2 with a 5.44 ERA last week, walking 7 batters and striking out 20 over 18 combined innings. The performance left their collective ERA unchanged at 5.35, versus the Major League average of 4.05.
On the mound
At the plate
Players to watch
P Scott Effross (Cubs/Triple-A/Iowa Cubs) pitched 3.2 perfect innings over 2 appearances, yielding no hits or walks while striking out 4.
P Zack Leban (Marlins/Triple-A/Jacksonville Jumbo Shrimp) was sharp in his Triple-A debut on July 9, yielding zero earned runs on a hit and a walk over 2.1 innings while striking out 3.
Transactions
Injured list
3B Alex Bregman (Astros), left quad strain, since June 17. According to a recent article, Bregman is hoping to accept a minor-league rehab assignment within the next week.
# # #
For the latest information from Jewish Baseball News, follow us on Facebook, Twitter or Instagram
You also can get selected updates via e-mail