Here are your MLB highlights for the week of April 26-May 2, 2021:
Stats to share
For the first time in his 5-year MLB career, P Max Fried (Braves) — who finished 5th in the National League's Cy Young Award vote in 2019 and didn't play in 2020 — is enjoying a sizeable salary jump. After earning $583,500 in 2020, the 26-year-old is making $3.5-million this season.
At the plate
On the mound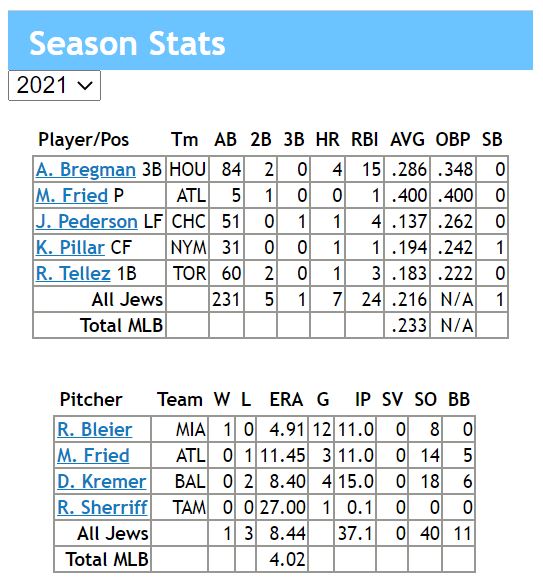 After pitching in 11 of Miami's first 21 games this season, reliever Richard Bleier (Marlins) pitched only once last week, a scoreless one-inning outing on April 27 in which he gave up a hit and struck out two batters.
Max Fried (Braves) remained on the injured list with a strained right hamstring, but he's expected to rejoin Atlanta's rotation this week. Fried has not pitched since April 13.
Ryan Sheriff (Rays) is on a rehab assignment with the Durham Bulls (AAA). He joins fellow Jewish hurler Kenny Rosenberg on the roster.
Transactions
P Ryan Sherriff (Rays) was sent to a rehab assignment with the Durham Bulls (AAA) on 4/30/2021.
1B Rowdy Tellez (Blue Jays) was optioned to the team's alternate training site on 4/28/2021.
Injured list
# # #
For the latest information from Jewish Baseball News, follow us on Facebook, Twitter or Instagram
You also can get selected updates via e-mail