Here are your MLB highlights for the week of April 19-25, 2021:
Mazel tov
P Ryan Sherriff (Rays), who took leave of baseball after his first appearance this season, is back at Tampa Bay's alternate training site and working on his pitching as well as his mental health. Click here to see an extended interview with Sherriff in Sports Illustrated.
Stats to share
Despite amassing a hefty 5.40 ERA so far this season, P Richard Bleier (Marlins) has yet to give up a walk over 10 total innings. Meanwhile, the 6-season veteran has struck out 6.
At the plate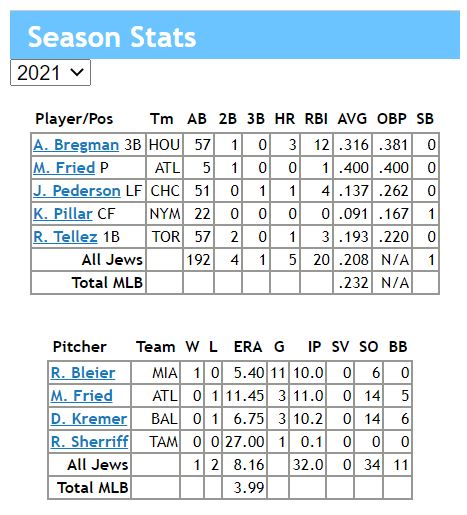 On the mound
Richard Bleier (Marlins) went 0-0 with a 3.00 over 3 appearances, yielding an earned run on 3 hits over 3 combined innings and striking out 2. Bleier's 11 appearances this season are tied for most among Miami relievers.
Max Fried (Braves) remained on the injured list with a strained right hamstring.
Transactions
LF Joc Pederson (Cubs) was placed on the 10-day injured list retroactive to April 21 with left-wrist tendinitis.
3B Alex Bregman (Astros) was activated from the injured list on April 20.
C Garrett Stubbs (Astros) was optioned to Houston's alternate training site on April 20.
Injured list
# # #
For the latest information from Jewish Baseball News, follow us on Facebook, Twitter or Instagram
You also can get selected updates via e-mail