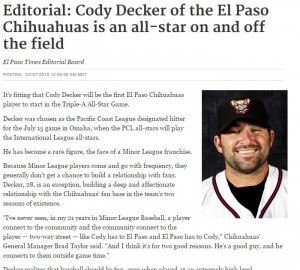 By Scott Barancik, editor
Lots of news to report in the minors today.
Cody Decker, the San Diego Padres' all-time minor-league HR leader, has been chosen to participate in this year's Triple-A Home Run Derby, along with five other All-Star sluggers. The 28-year-old infielder has 15 HRs this season and leads all Triple-A hitters in home-run frequency, averaging one round-tripper every 15.4 at-bats through games played yesterday (7/9/2015). The Derby will take place Monday, July 13, at 8:35pm EST. Decker will play in the Triple-A All-Star Game the following night.
Beloved by El Paso Chihuahuas fans both for his hitting and his quirky sense of humor, Decker was lionized Tuesday (7/7/2015) by El Paso Times. ""I've never seen, in my 21 years in Minor League Baseball, a player connect to the community and the community connect to the player — two-way street — like Cody has to El Paso and El Paso has to Cody," Chihuahuas' General Manager Brad Taylor told the newspaper. "And I think it's for two good reasons. He's a good guy, and he connects to them outside game time." The newspaper's editorial board piled on Tuesday. "In addition to being a very skilled baseball player — and Decker is playing the best ball of his life right now — he also is a filmmaker, actor and social media figure. He is selling T-shirts right now to raise money for El Paso's From the Heart Rescue, particularly to help a dog named Scooter, who was born with deformed front paws," the board wrote.
Rhett Wiseman (Nationals, short-season A)
Vanderbilt star Rhett Wiseman, a third-round pick of the Washington Nationals in last month's amateur draft, has signed with the franchise. The Nats paid him a $554,100 bonus and have assigned him to play for the short-season Auburn Doubledays.
Cincinnati Reds prospect Zack Weiss, who's taken on the role of closer since being promoted to Double-A, recorded his 8th save in 9 tries for the Pensacola Blue Wahoos yesterday (7/9/2015). In his past 10 appearances, he's 0-1 with a 1.69 ERA, 6 saves, 16 strikeouts, and just 2 walks in 10.2 innings. The 23-year-old recorded 5 saves in as many opportunities earlier this season for the Daytona Tortugas (High-A).
Rob Kaminsky, a 1st-round draft pick in 2013, continues to improve. In his past five starts, the 20-year-old southpaw pitched at least six innings per outing, allowed just 4 earned runs in 33 innings (a 1.09 ERA), and struck out 14 while walking just 3 batters. It's no wonder Baseball America's midseason update ranks him the Cardinals' No. 4 prospect.
But like a number of his Jewish peers, Kaminsky also has a gift for writing, which he showcases in a blog called 22's Two Cents. Particularly compelling is a July 2 post about life in the minors, titled Bus Rides and PB&Js. Be sure to share it with any high-school or college ballplayers you know who are considering going pro.
Want our daily updates sent free to your e-mailbox? Click here