By Scott Barancik, Editor
Minor-league baseball went dark in 2020 due to the COVID-19 pandemic. Happily, play has resumed in 2021.
During May, the first month of the 2021 season, a total of 35 athletes on the Jewish Baseball News roster played minor-league ball.
This is a smaller number than in recent seasons, thanks to consolidation by the MLB gods. But the number of players will tick up in late June, when the so-called rookie leagues begin play.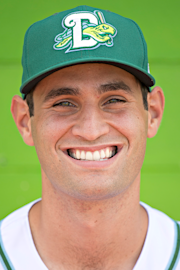 Pitcher of the month: Evan Kravetz
Evan Kravetz (Reds/Low-A/Daytona Tortugas) was dominant in 4 starts, going 0-0 with a 1.69 ERA, holding opposing batters to 0.94 walks/hits per inning (WHIP), and striking out 26 in 16 innings, an average of 14.6 per frame. A 5th-round pick in the 2019 draft, Kravetz had pitched only one pro inning prior to 2021.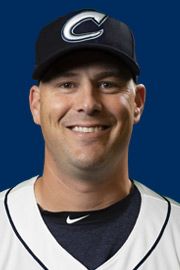 Hitter of the month: Ryan Lavarnway
C Ryan Lavarnway (Indians/AAA/Columbus Clippers), looking to get back to the Majors, hit .283 (17-for-60) with 6 HRs, 2 doubles, 17 RBIs, and a team-leading .955 OPS (on-base percentage plus slugging percentage).
Other top performers
P Zack Leban (Marlins/AA/Pensacola Blue Wahoos), who split his time between Miami's High-A and Double-A teams, went a combined 1-0 with two saves in two chances, 2 holds, and an 0.82 ERA. Leban hadn't pitched since 2018, his rookie year, when he went 0-2 with a 7.24 ERA and was tarnished for 2.27 WHIP.
P Scott Effross (Cubs/AA/Tennessee Smokies) went 3-0 with a 2.89 ERA in 8 relief appearances, striking out 20 batters over 18.2 innings, walking only 5, and holding opponents to just 1.13 WHIP. Perhaps not surprisingly, Effross was sent to Chicago's Triple-A team on June 1, his first Triple-A assignment since being drafted in 2015.
P Jake Miednik (Indians/AA/Akron RubberDucks) went 1-0 with a 3.09 ERA, struck out 16 batters in 11.2 innings, and held opponents to 1.03 WHIP.
C Scott Manea (Astros/AA/Corpus Christi Hooks) went to bat just 50 times, but he led his team with 15 RBIs. Manea particularly shone in a 3-2 win on May 28, delivering a go-ahead home run in the 5th inning and a 7th-inning double that proved the game-winner. Who scored the winning run? Teammate CJ Stubbs, who added his own RBI double.
C Garrett Stubbs (Astros/AAA/Sugar Land Skeeters) hit .333 (9-for-27) with 3 doubles, 3 RBIs, and a .915 OPS before being called-up to Houston on May 28.
OF Jake Suddleson (Athletics/High-A/Lansing Lugnuts) hit .268 (19-for-71) with 4 HRs, 7 doubles, 11 RBIs, and an .868 OPS.
Two promising Triple-A pitchers — Sam Delaplane (Giants) and Kenny Rosenberg (Rays) — haven't played in 2021, due to injury. Rob Kaminsky (Phillies), who pitched 5 Major League games for the Cardinals in 2020, tossed just one inning at Triple-A this season before succumbing to an elbow injury.
Click here for a complete list of player stats through May 31.
# # #
For the latest information from Jewish Baseball News, follow us on Facebook, Twitter or Instagram
You also can get selected updates via e-mail